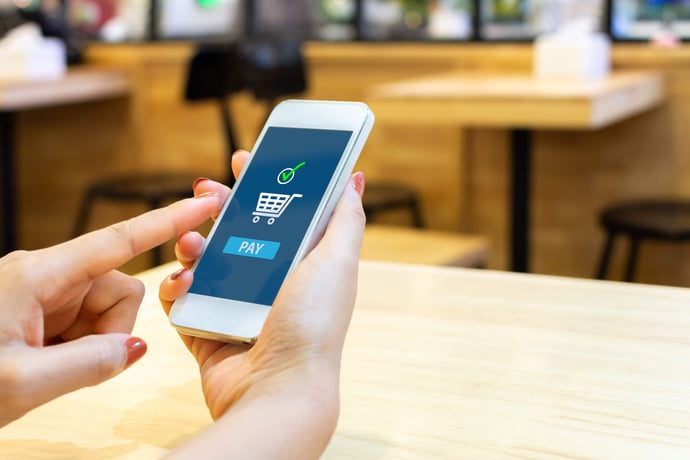 Marketing automation and ecommerce are two of the top digital trends for both B2C and B2B companies to be focusing on in 2021. And the great news is that the two go hand-in-hand to improve customer satisfaction and profitability of businesses. In this blog we explain how ecommerce supplemented with marketing automation outperforms traditional ecommerce models.
We're going to cover:
Want to know how to get more out of ecommerce using marketing automation? Watch our On-demand Webinar here.
In 2021, serving customers online has become a priority for both B2C and B2B businesses. The global coronavirus pandemic has well and truly influenced consumer behavior worldwide and, as business people are consumers too, the same demands are being placed on businesses to deliver seamless digital commerce experiences.
What is marketing-driven ecommerce?
Marketing-driven ecommerce is all about using intelligent marketing strategy and marketing automation technology to improve the customer experience related to online buying behaviour.
With marketing automation 'truck-and-trailered' into your ecommerce solution, you can create consistent long term and repeat revenue streams. For example you can set up automated email campaigns that notify customers when a wish list item is back in stock, or if a subscription-based product is up for renewal.
Businesses that tackle this well are the ones that will rise to the top in terms of ecommerce success. And the only way to do this well is with the right technology and systems.
Choosing the right technology stack
Investing in an integrated ecommerce technology stack is fundamental to marketing-driven ecommerce success. Connecting your systems will not only save time and admin for your marketing, sales, customer service, operational and finance teams (and the list goes on!), it will avoid costly errors and bad customer experiences that damage your brand and your business.
Choosing an ecommerce platform? Introducing CommercePro
Marketing automation platforms come in different shapes and sizes (and disguises). So be sure to do your research on the features suitable for your business. The fundamental features of marketing automation software to look for are:
A solid CRM that provides a single-source of truth about your customers for your business

The ability to integrate with common ecommerce platforms through native integrations (e.g. WordPress, Shopify)

Automation functionality that enhances the customer experience such as automated emails, landing pages, chat bots and live chat, and the ability to serve content intuitively to customers and prospects

Powerful reporting and analytics

Built in AI to enhance the customer experience.
Download our free guide to marketing automation
HubSpot is a marketing automation platform, which suits the needs of most NZ businesses due to it's highly scalable model. HubSpot provides marketing automation, customer relationship management (CRM), website hosting, search engine optimisation, blogging, email marketing, sales automation, service desk hosting, customer support automation and more. With all your key customer processes and analytics in one place, HubSpot is able to provide rich analytics on customer behaviour.
The data that you gain from connecting your ecommerce platform with a system like HubSpot is that you'll uncover enhanced customer insights and buying patterns, which in turn will give you the opportunity to segment your customers effectively and provide personalised experiences.

To really leverage the power of the data this type of solution can provide, remember to use your data in a way that solves your customers problems and makes their lives easier. This can act as a great competitive differentiation between you and other online stores if you do it well.
Embrace the new ways your customers want to connect with you
As a business you need to be where your customers are, always. To know this, you need to develop a crystal clear picture of your customer persona, their pain points, triggers, and what their buying journey looks like.

Once you have this, then you can go on to delight your customers with automated value in a variety of ways:
Providing relevant and timely value through email automation

Leveraging the power of live chat

Using personalisation tools to beautifully tailor content for people you have interacted with in the past

Embracing personal engagement on social media and

Maintaining fast response times to customer questions - 24x7!
All of this works together to replicate the intimacy that in-person shopping usually provides. If you get it right, the value you provide your customers will build trust, reputation and loyalty - and your outstanding customer experience will become a competitive advantage.
How to Increase Ecommerce Performance Using Marketing-Driven Ecommerce:
Solve for the full customer experience

Create a consistent omni-channel experience for customers: email, social, live chat, phone calls, SMS, etc. so no matter what channel they engage with you, they get the same unrivalled experience

Remove friction from your sales process - work out where the friction is, and use intelligence and automation to remove it and help your customers do business with you, better

Add value with automated services that make your customers' lives easier
Case Studies:

By learning how to engage differently with an audience online, the team created a 30% uptick in online revenue.
What they did:
Created video guides to cater to their older demographic

Developed consistent offline and online experiences

Ramped up customer communications in a meaningful way through various channel engagements

VinoMofo used automation to increase the consumer behaviours that they were seeking to encourage. This resulted in:
50% improved customer re-engagement

21% increase in sales conversion

120% ROI
How they did it:
Centralised their data, for full visibility across marketing/sales/service

Automated communications in a way that was both personal and at scale

Created omni-channel experiences for the customer (Email/SMS/Online chat)

Their top priority was to tackle churn and increase repeat purchases (through a combination of automated workflows, triggered promotional offerings (like birthday discounts), customer onboarding, and reengagement campaigns)
If you need help implementing marketing automation into your ecommerce model, we'd love to help.
Check out these additional resources: