Project Overview:
This project is a proud winner of a Web Excellence Award.
Nikko AM is one of APAC's largest fund management firms. They offer investment products for large financial institutions and direct-to-consumer investment products via their online investment platform, GoalsGetter - a fintech, Robo-finance app.
GoalsGetter initially engaged Engaging Partners to provide Inbound marketing expertise and improve lead generation and conversion opportunities on the existing app. After proving the value we could add to the business, we were engaged to redevelop the GoalsGetter app and integrate it with HubSpot to significantly improve the customer experience and create a touchpoint at every stage of the journey.




The Challenge:


Nikko AM had developed and been running New Zealand's first Robo-advice platform, GoalsGetter, for 12 months. Although the platform demonstrated steady performance, there was room for improvement to enhance UI, engage consumers better and grow the customer base. It was time to take the platform to the next level, develop a unique brand for this direct-to-consumer tool, and tackle missing conversion optimisation opportunities through a new, highly-sophisticated nurture programme.


The Solution:


With a fun new brand and fresh new UX design, the next task was to bring the app to life for consumers. The App needed to be supported by an engaging and informative website. The project was a 20% migration of existing content with 80% origination of new content into a complete new design interface. Here we were really able to bring the brand to life with high quality imagery, bespoke illustrations and carefully crafted content.


Website Rebrand and Optimisation:


Firstly, we identified the need for a brand refresh to be more appealing to consumers. With this new brand identity, we designed and developed a public-facing website on CMS Hub that was user-centric and conversion-focused. We brought in our brand partner, Tried & True, to redesign the consumer brand in parallel with the app redevelopment and website streams of work.
Utilising an innovative UX strategy, we optimised the website to appeal to buyers at every stage of their journey and created highly educational, lead-generating content that would appeal to our target personas. Our team strategically crafted pillar page copy with relevant keywords, such as 'Investing in New Zealand', to ensure the new website was search engine optimised and reached the correct audience.

APP Redesign:


The existing app was complicated for less-savvy investors to navigate and wasn't mobile optimised. Our team completely overhauled the UX and UI of the app and website following a 'mobile-first' approach. The process involved several rounds of workshops, user testing and refinement to deliver a more intuitive and fully optimised solution for mobile devices.

Dynamic content with HUBDB:


GoalsGetter offers a variety of options for investors. The investment product data is dynamically displayed in a custom-built graphing interface that pulls through HubDB data into consumer-facing charts. This integration converts data into pie graphs and charts to create a more personalised experience for the consumer.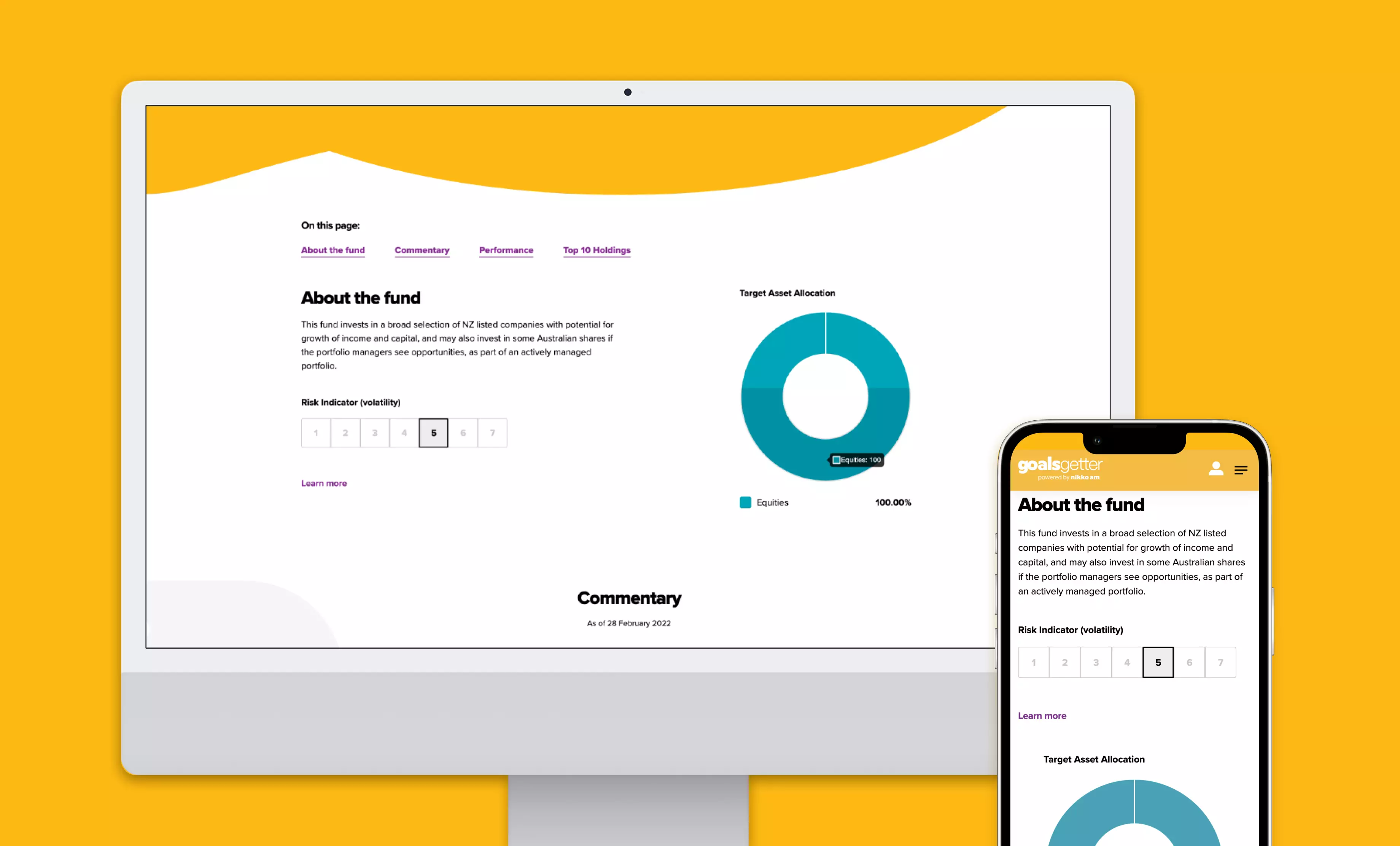 Inbound Marketing and Lead Conversion:


This project involved the creation of a complex automated email nurture programme fully integrated with the app via HubSpot CRM. This nurture programme was designed to motivate and support users to continue their investing journey on GoalsGetter at key trigger points in the app UX. The app's integration with HubSpot and deal stages allowed us to develop deal stage-based nurture based on a customer's exact stage of joining GoalsGetter.
We had previously developed an MVP nurture programme to 'test and learn' before going live with the app's new version. This programme was already delivering on our conversion optimisation objectives and had to be carefully transitioned to the new, more sophisticated nurture programme when we went live, including users currently active in workflows with live investments. Pausing this workflow enrolment and re-enrolling into the new system required precise, careful timing.
Alongside this nurture, we created content for various personas, including ebooks, videos, blogs, and GIFs - all best-practice lead generation programmes on MarketingHub.

Thought Leadership and Service HUB:


Our team project-managed all work streams and played a vital role in the technical redevelopment of the app and website. This involved working with the incumbent app developer and designing a series of complex integrations between the app, the backend financial and identity verification system and HubSpot - all under the strict requirements of the FMA (Financial Markets Authority).
We also added a knowledge base and ticketing system on ServiceHub to bring process efficiency to the customer service team to automate processes. This part of the platform is currently expanding.
Final deployment of the new GoalsGetter website and app required several rounds of user testing and a finely tuned sequence of rollouts to bring three streams of work (brand, website and app) together, live at the same time, with minimal disruption to existing users.



The Result:


GoalsGetter now has a new, playful consumer brand that comfortably sits alongside the Nikko AM parent brand and an innovative website that encourages users at every touchpoint of their journey. While the overall impact tends to shift due to the nature of the financial market, the GoalsGetter website has seen a significant increase in speed and SEO, including a massive decrease in bounce rates by 51%. Additionally:


Average pages per session is up 50%
25% increase in goal conversion rate
50% increase in average session duration
84% increase in page download time


What's more, while the original app was incompatible with mobile, with the help of strategic UX, UI, and lead nurture programmes, the mobile app is now receiving impressive volumes of traffic


The Impact:
The project deployment was extremely successful due to the close collaboration between the client, EP and development teams and the incredible attention to detail, testing and timing of work streams. 2022 will see the promotion of the new platform driving to achieve ambitious KPIs for the business, and now we have an excellent platform to work from.