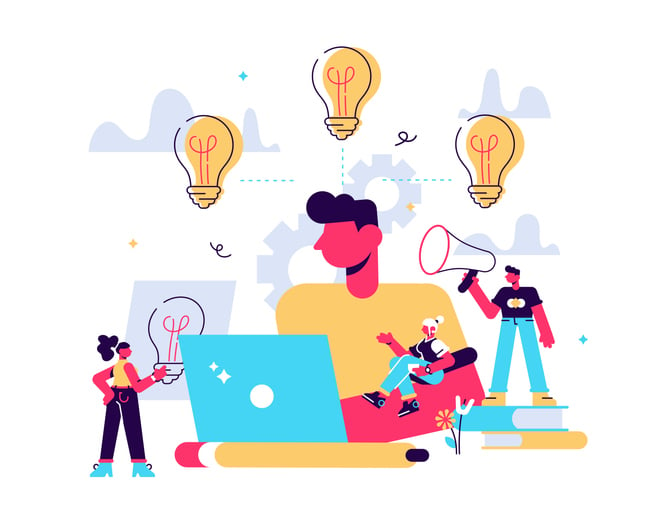 The volume of data that organisations collect is astronomical. Analysing that data from an ever-increasing number and variety of customer touch-points can sometimes prove challenging. But within all that complexity, lies an abundance of data-driven opportunities.
Data-driven marketing is transforming the way businesses respond to, deliver and enhance customer experiences. Those that get it right can develop personalised marketing strategies for the highest possible return on investment – and, ultimately, drive business growth. Unsure what data you should be collecting in the first place? Read on to find out more.
However, this is only a quick-fire guide to data-driven marketing. If you're looking to embrace change and evolve your programme, we'd be happy to support you further.
So book a time and let's chat!
What is data-driven marketing?
Gone are the days when marketers worked off gut feelings or assumptions. Today, the most reliable source of information is customer data.
That's where data-driven marketing comes in. To compete in this new marketplace, businesses need to focus on generating, analysing, and applying data to their marketing campaigns. Optimising brand communications using customer data. To develop more personalised and effective marketing strategies, you can use the insights you draw from your customers' data. It's a win-win – you get better ROI, and your customers get a better overall brand experience.
How data-driven marketing drives growth:
There's a reason modern marketers are grabbing the big data bull by the horns – the payoff from focusing on data first is huge! First, it's helping marketers make better decisions that get better results, faster. Second, it works. It's hard to ignore the stats, especially when:
78% of organisations say data-driven marketing increases lead conversion and customer acquisition.

Businesses that use data-driven strategies drive 5 to 8 times as much ROI as businesses that don't.
Top data-driven marketing strategies:
You've heard it before, but we'll say it again – personalised marketing is about delivering the right message through the right channel at the right time. Data-driven marketing is the key to achieving that.
Here are some quick-fire ways you can leverage your customer data:
Segment your audience: Your target audience is made up of multiple different customer groups, and each of those groups exhibits different motivations and behaviours. Whether you choose to slice and dice your audience by demographic (think gender, age, location) and/or stages of the buyer journey, data-driven marketing allows you to accurately (and automatically) segment your customer base, and then use that segmentation to deliver personalised content.

Retarget your advertising: If you weren't already aware, re-marketing plays an important role in keeping your brand top-of-mind. Data-driven marketing can help you take your communications one step further by re-engaging individuals you know are already interested in your content.

Optimise your content: The digital world is an information oyster, which means any content (blog, social media, website) needs to speak directly to your customers. With data-driven marketing, you get context – what are your customers' pain points, challenges, desires? You can publish content that serves your audience's needs once you have that context.

Get a single customer view: Customer data can be leveraged by your sales and support teams too. To do that, you need a Customer Data Platform that aggregates data into a single customer view, resulting in a cohesive customer experience across your entire business. This is crucial if you're chasing business growth!
Tips for doing data-driven marketing well:
To get the most out of your customer data, here's what you want to do:
Know your audience. The first step is making sure you can trust your customer data. That means you need to get intimately familiar with your audience, build buyer personas, and make sure your teams know what makes your customers tick.

Manage your data: Data-driven marketing is constantly evolving, so quality data management is critical. Use the right tools, and you'll be able to adapt to new marketing opportunities as they crop up quickly.

Stay compliant: Customer data is a virtual extension of your audience, so it must be treated with respect. Remember that you're legally obligated to comply with data protection laws and regulations. For more help around rules and regulations, check out this blog.
Extra for experts: If you'd like to learn more about data-driven marketing, check out this Leaders Lab Episode.