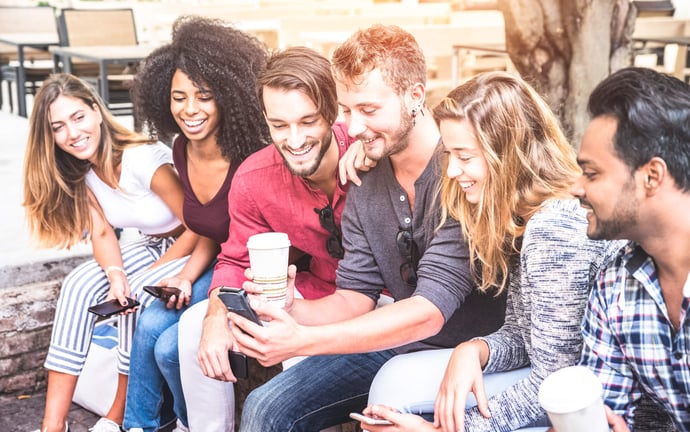 We've talked before on our blog about how the rise in video technology should be a key focus in your marketing strategy. And now that Apple has enabled video playback within Apple Mail, it's more important than ever that you ensure your business is ready for this growing trend and its impact on your marketing strategy.
As ever, we're here to give you the low-down on the latest innovations in digital marketing, and show you the best way to take it in your stride and get the full benefits.

So, how big a deal is this?
Make no mistake, there is huge opportunity here, and with video playback enabled on both mobile and desktop Apple mail, that potentially opens up 39% of the market. That's a massive piece of the (Apple) pie served up in one fell swoop. As Apple is often at the forefront of trends, you can be sure the other major platforms will follow suit.
So, it's a big deal, but how do you leverage it? This new feature, combined with Wistia's inline video playback functionality means that your prospects and customers can play video right there in their email app. This means that mobile users no longer have to switch between apps to play a video email, eliminating clumsy user experience. And with 54% of emails being opened on mobile, you're really going to make a dent in optimising mobile experience.
Here's 4 key advantages:
1. Increase your click-through
When using interactive elements, such as video playback, marketers report seeing a 200% improvement in click-through rates. No, that's not a typo - 200%. By including a video within your email, you stand-out from the crowd and the glut of emails they are sending your audience. As well as appearing more professional, people are more likely to watch your content than read a barrage of text.
2. Communicate more
Obviously, text and video are two very different ways of communicating. Think about the nuances between watching a great speech, listening to one and reading one. With video, you can leverage your body language, gestures, your tone and facial expressions. You can also convey data and information better than images.
3. Deliver Emotion
Email content doesn't smile - but you will be able to. We'll never stop urging you to make use of and reach out to your personas. Video allows you to present to them a genuine, trustworthy figure, showing them you're not just some faceless business sending out emails - you personally have something to show them.
4. Seamless
By removing that please click here link that leads to your video, you remove an entire step and create a more seamless viewing experience, especially for mobile users. It's less demanding and intrusive, and your audience doesn't have to do anything. They're simply being presented with your marketing information and then a call to action.
How you can implement it in your strategy, today.
It's a no brainer that this is a big deal for marketers. In fact, 91% of consumers want interactive content, yet only 17% of marketers provide it. So, how do you go about implementing it in your strategy? That's where the Wistia and HubSpot integration comes in.
With this new integration, you'll be able to capture leads with your videos, feed viewing data into HubSpot, and score, segment, and assign leads in a flash. You'll also be able to:
Collect specific and accurate audience information. With the Wistia and HubSpot integration, you can import HubSpot forms straight into your videos, which of course allows for great customisation of fields. You'll also be able to easily gate your content, and collect specific audience information.

Gain better ROI insight. Marketing Managers and teams are always being asked to do less with more, and therefore any insights into your ROI are like gold. With the Wistia and HubSpot integration pulling lead information from your video form right into your HubSpot portal, you'll be able to track exactly how many leads it brings into your funnel, and determine your video's value.
So, there's your insight into the key marketing trend of in-email-video, and how it could shape your marketing strategy. Don't push the snooze button on this one, in-email-video functionality is set to grow and should be put straight to the top of your to-do list.