The world of marketing can feel like it travels at the speed of light. But, if you stick with the trends, you'll certainly power ahead of the rest.
Last year, we saw a massive shift in the way individuals engaged with and consumed media online. Which resultantly caused a change in the virtual and hybrid business landscapes that marketers work within.
During the Covid-19 pandemic, virtual engagement spiked to an all-time high, with many brands shifting the way they operate to be more digitally centric. But, as people began to dribble back onto the streets, some businesses saw a total shift in consumer behaviour - observing slumps in the online engagement they'd recently relied on for survival.
So with this ever-changing digital landscape, it's hard to predict and observe what's to come next. But to gain success in the marketing world and stay relevant with your audience, you must stay ahead of the game.
HubSpot surveyed more than 1000 global marketing professionals from B2B and B2C brands to help businesses build competitive marketing strategies. We pull out our favourite bits from HubSpot's Marketing Trends of 2022 blog, for you to use as a bookmark for success this year.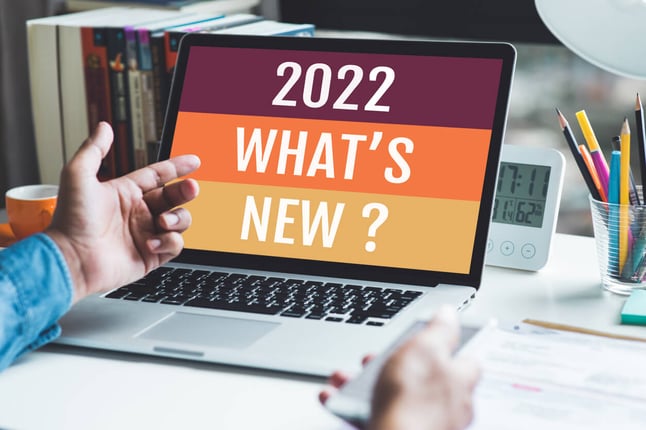 #1 - Keep video content short
Short-form content continues to be one of the most highly leveraged forms of marketing. Although long-form videos offer more information, many B2B and B2C marketers have found that short-form videos are more effective at getting the point across.
Typically, social media users have very fast-paced attention spans, hence why TikTok and reels have exploded in popularity over the years. When it comes to creating short-form content, not only does it take far less bandwidth to complete, it's simply more effective.
#2 - Optimise for mobile
According to HubSpot's 2021 marketing statistics, more than half of annual online website traffic comes from mobile devices alone. Mobile usage continues to intensify among millennials and Gen Z audiences, and it's crucial to be up-to-date with mobile optimisation, so you're not left behind.
84% of marketers that focus on mobile web design are planning to continue to invest the same amount of time, or more, in 2022. And for a good reason. Mobile is at the core of our fast-paced, highly-connected digital world. For your audience to have a seamless, smooth interaction with your brand online, your website must be optimised for mobile. So if your website doesn't tick all the boxes, it's likely your brand won't be getting the exposure it deserves. Curious to know how your website ranks for mobile optimisation? Find out with our Website Grader tool.
#3 - More consumers will listen to audio content
Audio content is becoming increasingly popular in the online world. Many big brands are leveraging podcasts to grow their existing audience and meet entirely new ones. So much so that 80% of marketers still plan to invest in audio content and podcasts in 2022. While audio content doesn't necessarily yield a significant ROI, it does create engagement and brand awareness. Audio platforms aren't always equipped with the best monetising features or conversion paths, the awareness they generate is undoubtedly worth the investment.
If you think your business has something to say, Podcasting could be right for you. Before you start, ask yourself if your idea will attract the right audience, stay relevant and timely, evoke enough content, and if it's being used in other podcasts. If so, you may need to think of a new angle to take! However, there are several things to consider before starting a podcast, including a host and the equipment you will use. If you're giving thought to Podcasting in 2022, this HubSpot blog is very helpful.

#4 - Inbound marketing will remain best practice
At its core, inbound marketing is all about valuing and empowering people to reach their goals at any stage in their journey with you. The inbound methodology focuses on facilitating meaningful, lasting relationships with consumers, prospects, and customers with the hope of growing your business.
Inbound marketing works by using the flywheel model to attract, engage, delight, and eventually enable your customers to succeed. When your customers succeed, they serve as advocates and promoters for your brand by sharing their success with others. This results in a self-sustaining loop that builds momentum for your business - all from prioritising and delivering exceptional customer experience.
Essentially, exceptional customer service acts as its own marketing strategy. Your customers become marketers for you, which is, unequivocally, a crucial part of marketing success in 2022. To find out more about why customer experience is so important, watch our free webinar below!

#5 - Experiential marketing
Experiential marketing campaigns work by enabling audiences to step into an immersive experience. Taking place in reality and augmented/virtual realities, experiential marketing is fun, compelling, and highly shareable on social media. Think Coca Cola's prize buses or Van Gogh's travelling art exhibition - experiences so unique that you can't not snap a pic to share on socials.
The purpose of experiential marketing is to allow consumers to experience a brand offline in an authentic way. While it strengthens the connection between customers and a brand, it also second handedly builds dialogue online. As things begin to open back up after the pandemic, we think consumers will be looking for tangible experiences more than ever before, and experiential marketing will rise in popularity again.
Experiential marketing is all about customer experience. If you're curious to know how good your customer experience is, take our CX quiz and find out now!
Hopefully, we've got you up to speed, well, for now at least. While the digital world will continue to throw new trends at you, left, right and centre, it's important to keep your finger on the pulse and don't resist change. We will be publishing plenty more blogs throughout the year about marketing trends, so check back here regularly for the latest updates and a helping hand.