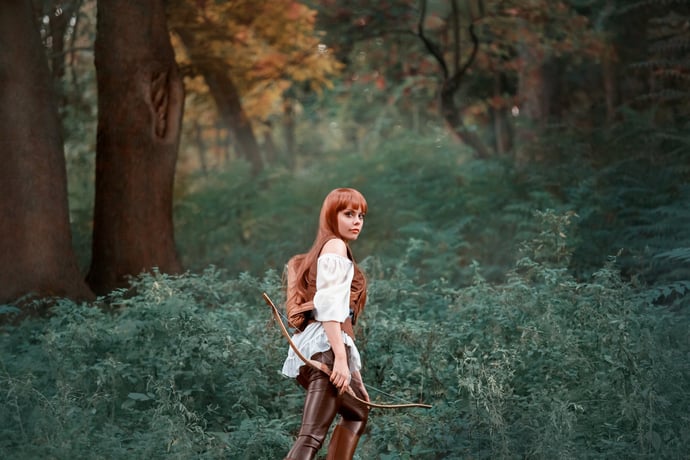 A few years ago, when you thought about social media, lead generation was probably the last thing that sprung to mind. Fast forward to today, and social media is a literal 'lead-hunting ground' for smart marketers. This blog is a refresh of one of our most popular posts... find out how social media has now become a 'not-so-secret' weapon for content marketers and what channels you should be targeting to generate leads in 2020.
Today more than ever, a well conceived content marketing strategy has the power to unlock the potential of social media channels to strengthen brand reputation, build trust and loyalty, and generate leads.
So much has changed with how social media channels operate. They constantly adjust their algorithms to provide value for their users. The world around us forces them to change to reflect society's needs. And the wheels of commerce keep turning.
Yet, although these changes impact the tactics (as a business) you need to use to find, attract and convert social audiences to your content - fundamentally, the strategic principles of inbound marketing still apply.
According to HubSpot's ongoing marketing research, globally, Facebook is still the leading B2B marketing social media channel for marketing content. A couple of years ago, LinkedIn and Twitter were coming in next, but there has been a big change - and one that we're seeing here in NZ as well. Instagram and YouTube have now stepped up as channels of choice for sharing content (although LinkedIn is still a key channel for B2B marketing content).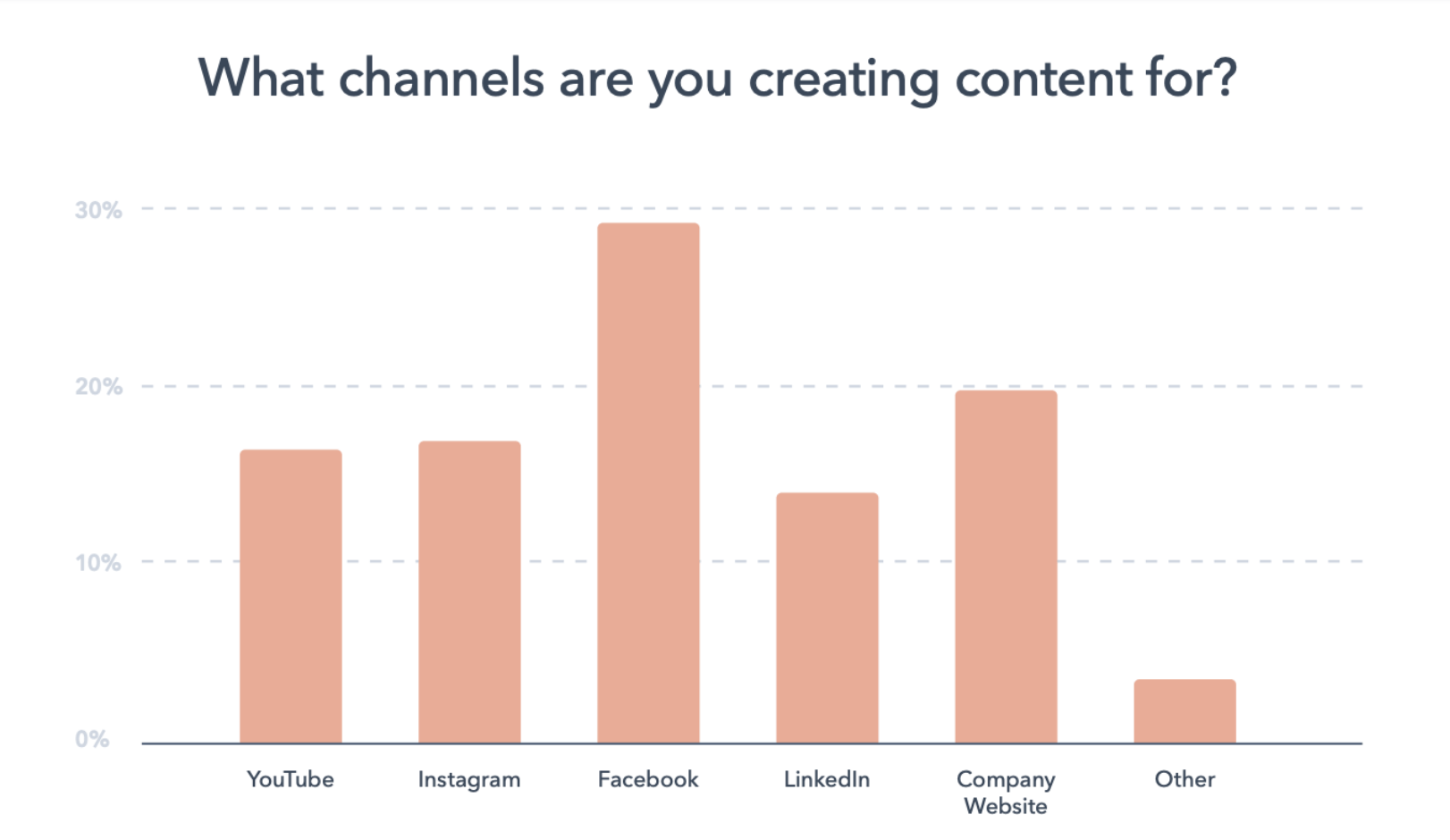 Source: HubSpot Marketing Statistics 2020
Based on these insights, let's explore what's working for marketers today in each of the main channels - and how to optimise your presence in these channels to get the best results.
Short on time? Find out what content works best for each social channel. Download our free infographic here.
Facebook
Social media giant, Facebook, still reigns supreme as a business marketing channel. There are over 80 million small businesses using Facebook's free business tools (source). The big shift in the last couple of years has been in paid advertising on the platform. While its still important for brands to build an authentic brand presence and following on Facebook, your content will not be discovered, and you will not extend your audiences unless you pay for it.
Hottest content format: Video Ads
79% of video marketers use Facebook as a video marketing channel, and social engagement videos are among the top four most common types of video marketers are investing in today. (source). Aside from the obvious fact that video content is more appealing to users, the truth behind the drive towards more video content is "...the allure for advertisers in Facebook's hyper-surgical targeting possibilities and the results Facebook videos can deliver" (source: HubSpot).

Like any form of social content, success with video ads comes down to having a clear objective, the right strategy and KPIs for your content. Next comes targeting - and this is where Facebook targeting is currently so superior to any other channel.
Hot tip: go to the 'Audience Insights' page in the Facebook Ads Manager. There you can play around with different options to define your target audience.
Then - and only then - it's time to play around with ideas for your creative. Great Facebook video ads:
Stand out visually

Contain a compelling CTA

Have a clear value proposition

Speak directly to their audiences' needs.
If you haven't tried Facebook Video Ads to share your content and generate leads... it's time to start!
LinkedIn
The social media platform designed for professionals is where it's at for marketers in hot pursuit of B2B leads. When it comes to getting social on LinkedIn to generate leads, you'll do so through ongoing commitment to generating original, authentic content that builds trust and authority.

Hottest content format: LinkedIn Live
LinkedIn Live is a new feature of LinkedIn for business. Live streaming on LinkedIn has been around for individual users for about 18 months, but they've recently launched the company feature. Live videos get 24 x more engagement than other types of post (source). As with all the other social media platforms, video and live streaming in particular is THE trend for the 20's. The set up and technology is now so easy - anyone can do it without the need for a production crew. But, you do need people who are comfortable in front of a camera. Authenticity is key on LinkedIn - building the profiles of people with the knowledge and credentials to speak to your audiences is incredibly powerful. So find your thought leaders and give them some video presenting training. Practise, practise, practise!
More tips for LinkedIn:
Create a great company profile page

Keep your images up-to-date. Your LinkedIn profile is an extension of your brand.

Share original content on the LinkedIn platform - often

Repost and share your website blogs

Get more mileage out of your content by connecting other people who work for your organisation and adding them as content ambassadors to share your company posts.
YouTube
Over 2 billion logged-in users visit YouTube each month and every day people watch over a billion hours of video and generate billions of views. (YouTube, 2020). And yes, Kiwis are in there, boots and all. So how is it that NZ marketers have been slow to tap into the power of YouTube to share content and generate leads?

Hottest content format: YouTube Pre-roll Ads
With the combined power of Google search history and YouTube's data on viewing behaviours YouTube ads are now giving Facebook a run for its money when it comes to audience targeting. Marketers can target YouTube pre-roll ads at people who recently searched for a certain product or service. And with the ability to deliver long-form ads, if the content of a video ad is closely related to a search, the viewer is likely to watch the entire ad or click through the ad to the content offer being promoted. This is why YouTube pre-rolls are brilliant for lead generation.

And, it's a really cost effective way to target your audience with video - the most engaging content format. YouTube Keywords are relatively less expensive to target on YouTube than in traditional Google Search.

Tips for producing YouTube Pre-roll Ads:
The first 5 seconds is free, but don't be tempted to cram your message into 5 seconds. use this time to ensure your audience knows this content is for them by using a compelling hook

Counter to other forms of advertising, you have the gift of time to then get your message across. Your ad can run as long as 3 minutes if the message you're providing has hooked the user, and is providing them with value.

But always, always, always include a CTA to your content offer early in the creative and have it persistently on-screen so they can click over once they convinced the offer is of value to them

Make the click worth it! If you've held people's attention in YouTube, then don't let them down with a disappointing offer.
Instagram
This popular social media site is where it's at if you're ready to leverage the power of visual appeal - and Instagram is the social channel with the second-highest ROI among marketers today (source). Is there life beyond the influencer on Instagram? With 6.1 million brand-sponsored influencer posts on Instagram in 2020 already, it's hard to see how this trend will wane any time soon.
But regardless of your content strategy, up until recently, Instagram has been primarily used by business marketers as a brand engagement channel over lead generation. So if you've been struggling to find ways to generate leads via Instagram, here's a tactic that you can experiment with if you have a good volume of followers - 'Swipe-Ups'.
Hottest content format: Instagram story with swipe-ups
The 'Swipe-Up' feature in Instagram stories can be a game-changer when it comes to driving traffic, leads and sales. This feature is currently only available to Instagram business accounts with over 10K+ followers or verified accounts. Here's how to use the 'Swipe-Up' feature in Instagram stories:

Create a new story by posting an image or a video

Click on the chain icon to paste the URL of a landing page / content offer (remember, only visible if you have 10K+ followers or are a verified account)

Be sure to include a strong CTA and tell people to swipe up on your post.
Here's some examples of swipe up executions.
Now let's get practical. How many Kiwi businesses have 10K+ followers? If that's unrealistic for your business, then the good news is there are other ways to get click throughs from Instagram posts - here's a few:
IGTV post with a link

Ask for a DM

Poll sticker

Join chat sticker
Keep playing!
The social media giants are constantly evolving - but the good news is, it doesn't take a lot of budget to experiment with channels and content formats to attract new eyeballs to your content. The most important thing to remember is to start with a good strategy that is centred on an intimate understanding of your personas - the ideal customers you want to attract to your content.
Happy hunting!
For more thoughts on good content strategy check out our comprehensive guide to content and inbound marketing.