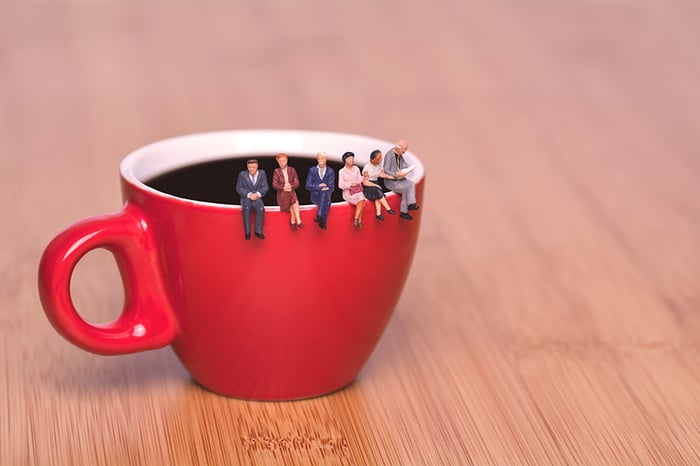 It's month end. You're looking at your GA results. Your website stats are looking healthy – but for some reason, they just don't seem to be converting into leads and sales for your business.

If this sounds familiar then it's time to look at nurturing – your leads, that is!
With the smarts of todays marketing automation platforms, it's entirely achievable to design and implement highly sophisticated lead nurture programmes that close this gap, gently encouraging your website visitors and leads towards purchase.
In this article we explain why and how lead nurture programmes work, and throw in a few tips for beginners AND experts (if you're already on this journey).
What is lead nurturing?
Lead nurturing is the process of providing quality content to meet the information needs of your leads at the right time in their buyer's journey. This content can be delivered across any channel, but is primarily delivered through a series of carefully timed emails, after a contact has become a lead (i.e. they have made themselves known to you by sharing their email address in return for a piece of your valuable content).

The idea of lead nurturing is to use the smarts of a marketing automation platform to drive the timing and delivery of the next most valuable piece of content to your leads, based on behaviours and rules you deem to be important to your personas.
Through effective nurturing, you gently encourage your leads along their buyer's journey, to the point where they are ready for sales follow up.
Want to learn more about how Marketing Automation provides the foundation for effective nurturing programmes? Download our eBook: A Guide to Marketing Automation.

What value does lead nurturing really add to your content marketing programme?
Our good friends at HubSpot have some compelling data that illustrates just how vital lead nurturing is when it comes to qualifying leads. HubSpot research shows that content marketing programmes that include a nurture component result in 50% more qualified, sales-ready leads, which is impressive, delivered 33% cheaper than traditional methods.
It's all about building trust
Aside from the bottom-line value, well crafted lead nurturing communications build long-term credibility with your leads by educating and building brand loyalty and trust. Done right, when your leads are ready to make that vital purchase decision, your company is top of mind. To them, you're a company who is helpful and knowledgable, and a brand they want a relationship with.
Be wary of asking for the sale too soon
HubSpot data indicates that at least 50% of new leads are not ready to buy, so it's important you continue to nurture them until they are ready. 82% of leads find these kinds of nurturing messages to be more valuable, and less off putting than asking for the order. So successful nurture programmes respect the space between enquiry and sale, and do not put leads under pressure to be closed too soon.
New to lead nurturing? Here's a couple of tips to get you started.
Think 'persona-first'
A deep appreciation of your ideal personas is the most important first step in designing a suitable nurture programme for your leads. What are their pain points? What are their goals? What has triggered them to start their search for information? These are just a few questions you need to have a good understanding of in order to develop content that will resonate with them.
Understand your persona's buyer's journey
Armed with persona insights, next think about how they think and feel at different stages in their journey of information gathering. What will help them define their problems and look for solutions? How will they evaluate different solutions? And what will get them across the line when it comes time to purchase? Map this out for each persona then design your nurture programme to connect the dots between each phase.

Need more help understanding buyer personas?
A couple of tips for experts:
Here at Engaging Partners we've been developing, running, fine tuning and experimenting with lead nurture programmes for over 3 years. Here's what we've found really works:
Consider a longer nurture programme for B2B
If you're in the business of selling complex offerings that have a long sales process, then we've found long nurture programmes that extend up to 12 months in some cases really work. Our insight? People download content, but they don't actually get around to reading it. Break up your premium content into bite-size chunks and use this as your nurture content – then spread it out over a long time. You'll notice your open and CTR rates increase remarkably.
Mix it up – don't set and forget
If you've been doing content marketing for a while, revisit you old nurture programmes every quarter. Are you still giving new leads who engage with your content today as much value as you could be? Can you offer them new content that has been released more recently, that could perform better? Would giving them more choice work? Look at the data your marketing automation platform is telling you – what's working well, what's not, and how can you tune up the programme with elements or logic that is working well?
If you're interested in learning more about lead nurturing and how to get the most out of your marketing automation platform, we'd love to help.
Check out our free eBook – A Guide to Marketing Automation or get in touch with us today.