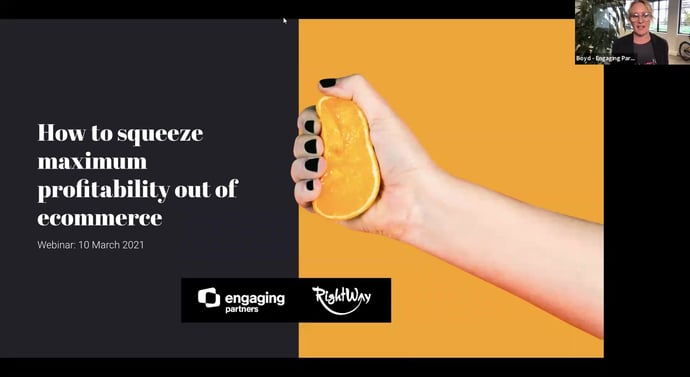 If you're a marketer or business owner who has thought about adding an online store to your business model, or if your organisation has already dipped it's toes into the world of ecommerce, you may be evaluating the profitability of your model. Experts from Engaging Partners and our small business accounting partner, RightWay, share their tips.
In this blog, our experts: Sonia Slattery, CMO/COO at Engaging Partners; Hugo Venter, Ecommerce Specialist at Engaging Partners; and Isaac Gommers, Business Partner at RightWay share their insights into these topics:
If you'd like to know how to squeeze more profits out of eCommerce, watch our On-demand Webinar here.
The Rise of B2B Ecommerce
Even before the recent pandemic, B2B businesses had been moving to ecommerce faster than ever. Forrester predicts that by 2023, the US B2B ecommerce market will grow to US $1.8 Trillion. And New Zealand businesses are very much following suit.
So why is ecommerce becoming so important for B2B organisations? Sonia shares her perspective...
"There are two key reasons why B2B ecommerce is expected today. Firstly, customers want it. It's that simple. These days the majority of the buying process is done online even well before the 'till' - be that an online or offline till. Business people are consumers too, so they expect their business transactions online to be the same standard as their consumer ecommerce experiences.
Secondly, the demographic of people making business decisions is changing. Prior to 2020, the B2B audience was made up of baby boomers and members of Generation X. Baby boomers preferred getting their information from data sheets, sales literature and product trials. On the other hand, Gen X sought information from trade shows, conferences and print ads.
Today, 73% of millennials are involved in the B2B buying process. This generation grew up alongside technology which explains their preference for digital commerce."
Should eCommerce work seamlessly with other sales channels?
Hugo shares his thoughts on this question.
"It comes down to what you are actually selling. Are you selling a service? Physical products? Or a software-as-a-service? In all instances, ecommerce can definitely work as a completely separate standalone channel.

However, there is proven success in a hybrid model, where businesses maintain both an ecommerce online presence and an in-store presence. This gives them the opportunity to connect with their customers face to face, while also giving the customers the freedom to purchase online if they please. Another variation of this is a brick and click model, where customers can browse online and then collect in store."

Isaac shares his perspective on this from a financial standpoint. "Either approach can work well. But more often than not, your sales channels will always be interconnected in a way. The important part is understanding how they are connected, and making sure they don't compete with each other, overlap on cost, or confuse the customer. Business owners need to understand how each channel is performing in the context of the wider business so they can make important decisions about the business future."
Does profitability equal price?
"Profitability is about both price and cost," says Isaac. "The cost base is where you can have a discussion about profitability, but it needs to fit in with the long term business strategy. Successful business owners know their margins and how to improve on them - and what levers to pull to achieve that.
It also depends on where you're coming from and your maturity as a business, because you'll know what your profit margins are. Beginners forget that there are hidden costs that go into having an online store. For example: the ecommerce platform fee, picking and packing orders, managing correspondence, managing social media and marketing, responding to queries, dealing with returns and refunds, etc, etc... The list goes on."
Hugo adds. "At the end of the day, your time equals money. So every minute that you're spending not doing something that's generating revenue is money that you're losing. Simply trying to create profitability through a small price margin on sales is not as easy as it sounds."
How to tune your marketing strategy to drive ecommerce sales
We asked Hugo to respond to this question.
"If you're selling a service or digital product, it's all about driving awareness. But if you're selling a physical product online, it becomes tricky, because you lose the tactile experience completely that is so important to a traditional physical sale.
You have to develop a strategy which really tells the story of your product through rich media and beautiful content to get your brand message across. Then you can start to build familiarity and a customer story around that product. The key here is to narrowly identify who your target market is, and truly understand the reasons why they are going to want your product."
During the webinar, Hugo and Isaac shared their insights into the common mistakes businesses make in their ecommerce marketing strategy. Here's a summary:
Mistake 1:
Not spending enough time or money in proactively marketing their product. Business owners often spend so much of their day working on and fixing things inside of the business, and forget about marketing. Sometimes, you have to invest in hiring people to do this for you.
Mistake 2:
Not measuring the ROI on marketing spend. Business owners need to analyse whether their marketing is working or not, and understand their gross profit margin.
Mistake 3:
Pricing too low. A business that doesn't charge enough for their products simply cannot grow.
Mistake 4:
Not caring enough about the customer experience. This comes from a lack of planning, lack of foresight, and lack of empathy for the customer. 95% of consumers are loyal to brands they trust, so building trust is of vital importance. This of course takes time and effort.
Mistake 5:
Trying to do everything themselves. You've got to be prepared to invest time and money into building your ecosystem of apps for ecommerce. It's worth investing in outside advice/expertise to get this right.


Why customer experience is so important
All our experts agree that customer experience is key to the ongoing success and profitability of your online store.
"If you build an online store that has bad user experience it becomes a barrier to purchase. Customer experience is really key for ecommerce, but it doesn't just stop when someone confirms a purchase," says Hugo. "Many ecommerce merchants don't consider the post-shipping customer experience, and this is where it's powerful to go above and beyond. Put effort into your packaging, add a handwritten note, or a discount code/small gift. The surprise and delight goes a long way to converting customers into loyal returning customers, and even advocates who create word of mouth marketing for your business."


Our experts top tips for squeezing maximum ROI from your ecommerce investment

If you're just starting out...plan, plan, plan!

Be shrewd in your marketing when you start - advertise to a specific area/niche.

Know who you can call on when things go wrong - have a support structure in place.

Truly understand your gross profit margin.

Measure the ROI of marketing/ad spend - determine what works best and then amplify that.

Be prepared to invest time and money into building your ecosystem of apps for ecommerce - it's the engine of the business and if done right it will provide benefit for years to come. It's worth investing in outside advice/expertise to get this right.
As with any business venture, there is no business without a healthy profit margin. If you need help injecting more profit out of your ecommerce model, we'd love to help.
Check out these additional resources: