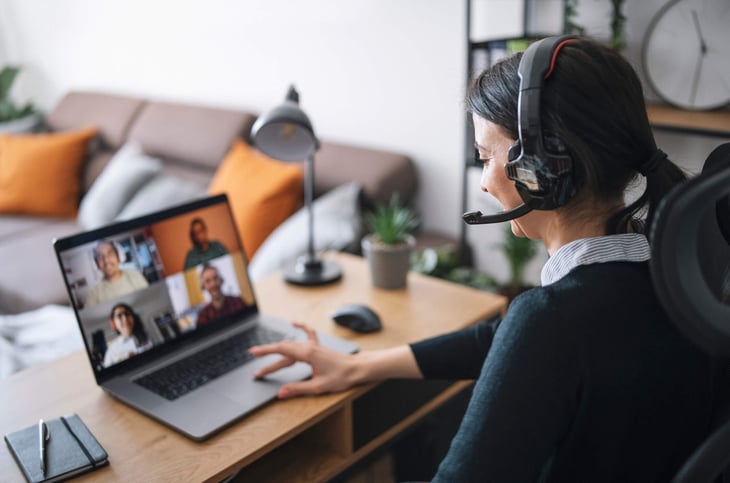 Fast forward from one of our previous blogs, where we explained the 5 lessons we learned from our first live webinar experience, we've now had the pleasure of hosting several successful live webinars to this date.

However, times have now changed. The pandemic has fast-tracked the adoption of numerous conferencing technologies for different purposes, and now that we're all 'Zoom experts', people's expectations have changed.

Particularly for webinars, we've come to expect speakers joining from 'all over' and we expect to see people with headsets on, and we want good sound quality. We also expect people to be comfortable having back and forth conversation, a seamless flow between presenters, and smooth screen sharing.

To have a successful webinar in this day and age, you need to look, sound and feel comfortable with the technology you are using.

In this blog post, we share what happened to us when we ran a webinar on a new platform, what we learned, and what you can do to ensure your next webinar is a raging success.



Our main learnings:
Technical and presenter setup testing
First and foremost comes the technical setup of your platform and setting up your presenters for success.

We learned that it's safe to have a technical rehearsal a few days prior to the live webinar (especially when using a new platform). Don't leave this too late, because you never know what technical mishaps might pop up that you need to figure out how to fix. Giving yourself enough time for this will mitigate risk and keep you stress free before the go-live.

Next, you need to make sure your presenters have appropriate headsets (ideally background noise cancelling), and set themselves up in a good soundproof acoustic setting. We made the mistake of speaking from our boardroom into our soundsystem microphone - which we later discovered resulted in a very echoey and low quality audio experience for our audience.

To back this up, we believe it's also best for speakers to be on individual screens in their own spaces with headphones on, rather than multiple speakers being in the same room sharing one camera. This will enhance the viewing experience for your audience and improve sound quality.
Content preparation and rehearsals

Next comes the preparation of content. This is vital and really needs to be fully organised, ensuring all speakers know exactly what they will be talking about and in what order/format.

Without having this fully prepared, you risk the chance of your speakers fumbling or facing awkward silences/transition periods. We recommend having one or two run-throughs to ensure everyone is on the same page and ready to go before the actual webinar takes place. This way, the speakers can coordinate their content and be prepared to 'bounce off' each other on the day.

During the webinar, if you are doing a live demonstration of anything that requires you to share your screen and use a certain platform, you need to make sure that this is all set up ahead of time. Tips for live demos:


Prepare backup slides in case the live demo fails
Test that you can log in to the webinar platform ahead of time, and also testing the screen share settings.
Test the recording functionality of your chosen webinar hosting technology, and ensure you know where the recordings will be saved.

Side note: You should always prepare for the worst… No matter what, issues are always bound to pop up with these sorts of things - often in places you least expect. So it really pays off to practice and prepare for the worst scenarios happening. For example any technical difficulties occurring, or speakers becoming unavailable at the last minute.
Audience engagement

Then there comes the important matter of audience engagement. For this, you should be actively encouraging your audience to engage with your presenters by asking questions. This is where it will be important that you have someone from your team monitor the chat panel of your webinar from start to finish. This person can then relay the questions back to the presenters for them to answer, or if a simple answer is enough, they can type the answers straight away back into the chat as the webinar continues.

Here it will also be important to prepare some backup questions in case of any technical issues which disables the audience from asking questions, or if the audience is shy and no questions are asked by anyone. Having prepared questions is a good way to touch on relevant topic points that you want the audience to know about too.

Follow up email ready
Lastly, prepare a follow-up email for attendees before the webinar even begins. Having this email ready to send to attendees immediately after the webinar is a great way to show your appreciation for them joining. It also means any follow-up call to actions that you include in your email will more likely be clicked as you are top of mind for the attendees.

Tip: We recommend adding a link to a survey inside this email, where your attendees can click to submit their feedback, satisfaction levels, and any suggestions for the future. This will be valuable information for you and your team to learn from and improve for any future webinars. If you're on HubSpot Service Hub Professional or Enterprise this is as easy as setting up a quick CES (Customer Experience Survey).
So to round it all off, here are our top 5 tips:
Make sure you are FULLY comfortable with the webinar platform you are using
Have a technical rehearsal a day or two prior to the webinar
Practice and prepare your content flow between presenters and sharing screens
Prepare backup slides if you're doing a live demo and practise demoing on the platform ahead of time
Encourage audience engagement by asking questions and having someone actually manage your chat screen.



Want to see some great webinars in action? Check out our Resources section for recordings of all our live webinars.