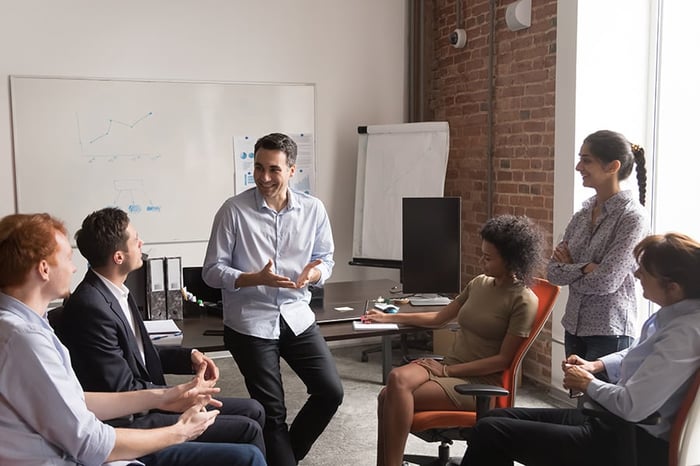 It's clear — smart companies are adapting in a world gone digital and shifting their marketing spend to where buyers are doing their research and discovery — online. It's just common sense when 79% of shoppers are spending at least 50% of their shopping time researching products online.
However, most New Zealand businesses don't have the time and resources required to up-skill people on Content Marketing must-haves and to develop a co-ordinated approach across disparate digital channels. Smart NZ companies are turning to agencies for help - but there's agencies, and there's agencies who 'get' Content Marketing. How can you tell the difference and choose the right Content Marketing agency for your business?
The effectiveness of Content Marketing is undeniable. The ROI an organisation experiences when it transfers marketing investment from outbound to inbound is well documented. But in case you missed the recent research, here are a couple of stats to remind you why Content Marketing has become a marketers 'go to' strategy and how big the shift to inbound is.
US inbound marketers who spent more than $25K per year saved an average of 13% in overall cost per lead

48% of marketers planned to increase their inbound marketing spending.
So if you're considering the move to inbound Content Marketing but don't have the time and resources to up-skill your people on content marketing must-haves like SEO, social, analytics and email marketing then you need to find an agency partner who can help. Bringing these tactics together requires effort and a coordinated approach will generate a much lower cost per lead and higher ROI.
But it's still not a one-size-fits-all proposition. Content Marketing Agencies come in all shapes and sizes, with different specialties and talents. And there are core values and skill sets that will make some better suited to your business than others.
Here are the top 6 things you should consider when choosing a Content Marketing agency.
1. Hire an agency that delivers all Content Marketing services
For an agency to be a Content Marketing agency it must offer four core services. These services each have several tactical components. To deliver real value and maximum impact, all these tactics must be integrated and coordinated. If an agency can demonstrate how it can combine these tactics together into a single cohesive strategy, it's a good sign they know how to implement content marketing effectively and get results.
The first core service of inbound marketing is generating traffic to a website using SEO, blogging and social media sharing.

The second is developing the premium content needed to attract site visitors' interest and convert them using landing pages and managing online lead generation.

The third is constructing targeted lead-nurturing campaigns aimed at converting those leads into customers.

The fourth core service is measuring and conducting analysis at every step in the process to improve results.
2. Hire an agency with a solid, proven and logical plan of attack
They know you. They know your business. They know their capabilities and what is required for content marketing success. Therefore, any agency worth considering should be able to plot out the specifics and details for the strategy and campaigns they propose for your business. Building on the goals and challenges identified in the sales process, your potential partner agency should be able to outline their approach in terms of the 4 core services and explain all the tactics they plan to employ in their execution. Expect a timeline for each chunk and a description of the resources they're likely to need along the way.
3. Hire a firm that can present itself as a case study
You've let them in the door so they can talk the talk, but do they walk the walk? Do they have their own Content Marketing programme in place? Take a look at their site - a solid YES or NO answer to this question could give you interesting insight into just how good they really are at what they do. While one industry study showed that nearly 75% of agencies have used inbound marketing, a truly effective Content Marketing agency should be its own best case study.
4. Hire an agency that can explain how it does what it does
A complete Content Marketing strategy is comprised of many different tactics. It's like any large market place - there are a lot of constantly "moving" components. Components, which while they might stand on their own, are far less effective and efficient than when combined together in a comprehensive and cohesive strategy. And to truly succeed online in today's digital world, every business needs to leverage all the components to create a comprehensive marketing strategy that's right for them. Assembling the pieces together into one, cohesive strategy is the job of your agency. So it's important you understand a potential partner firm's capabilities at the outset of your relationship. Make your prospective agency provide details around how each step of the strategy will get done.
5. Agencies that Measure Everything Succeed
The Internet is an infinitely measurable place. This makes each element of Content Marketing trackable and interpretable. This fact should be leveraged heavily by any Content Marketing agency which you are considering working. Your prospective agencies should have presentations littered with the words "tracking," "metrics," "benchmarks," and "analytics." Progress made toward your goals should be measured every step of the way, and a Content Marketing agency worth its weight will be able to track campaigns and monitor performance in real-time.
6. Your Content Marketing agency should want you to see everything they see
Make sure the agency you are considering embraces transparency as a core value. While you're not likely to see this word next to a bullet on a PowerPoint slide, an agency can infer and prove they are transparent with their clients by citing and discussing the three main business practices below.
First, they should outline a regular meeting schedule in their sales process. These meetings allow the agency a regular venue to raise questions and/or concerns as an engagement is ramping and progressing.

Second, every agency should jump at the chance to train your people. The more you and your team understand what is being done and why, the more you can thoughtfully partner with your agency and set their efforts up for success.

Third, truly transparent agencies will insist that you have login credentials to the online marketing software they use to run your campaigns. These accounts are loaded with data, and they should be open and comfortable with you walking around in their world and questioning what you see.
To see how Engaging Partners measures up, contact Boyd Wason.
(Sources: HubSpot State of Inbound, Nov. 2012, powerreviews, Feb. 2012, Online Marketing Institute's 2014 Digital Marketing Talent Study)