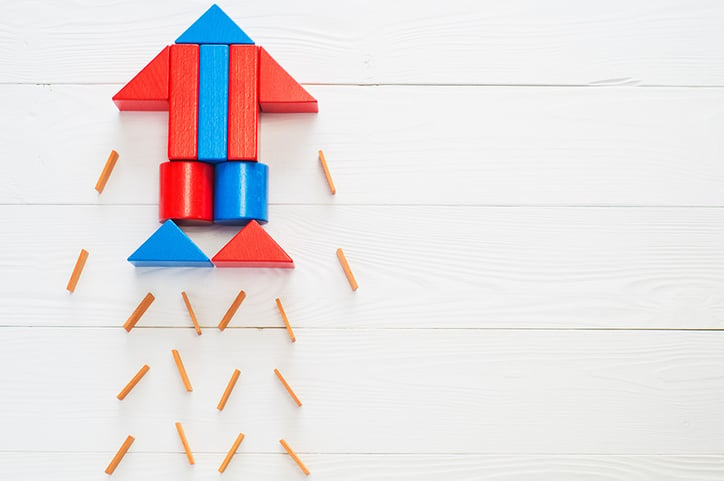 Marketing is crucial for your business' growth, so it's important you understand how it's going to fit into your overall business strategy. Nowadays, most companies have some sort of marketing strategy in play... but not all are successful with execution. So what's the secret to good execution (other than employing a savvy marketing team)?
Having an appropriate budget in place!
In this blog, we explain how the amount you spend on marketing could help your business grow... or stay stagnant.
So, why is marketing important?
The advancement of your business largely depends on the strength of your marketing strategies and how well they're executed.
Marketing is the act of promoting a product or service, right? Your business could offer the highest quality product possible, but if people aren't aware of it, they can't buy it. This means the majority of your business operations revolve around marketing including public relations, advertising, product placement and even product design.
A good marketing strategy is one that leads not only to awareness, but an increase in sales. One of the major factors to consider is your marketing budget. After all, you could have the greatest strategy in the world, but you need to establish the proper funds behind it in order to put it into action.
How much should I spend on marketing?
A study conducted by research company Gartner, Inc. from 2020, found that companies spend around 10% to 12% of their annual revenue on marketing. Of course, these percentages vary depending on the line of work you're in.
According to a CMO Survey, here's how much major industries spend on marketing (based on overall budget):
Consumer goods - 24%

Consumer services - 15%

Tech and software - 15%

Communications and media - 13%

Consulting - 12%

Retail and wholesale - 10%

Manufacturing - 8%
Even with this information, you might still wonder exactly how much of your company's budget to spend on marketing. If you simply want to keep your business afloat and are content with your current market position, then allocate just 4% to 5% of your revenue towards marketing expenses.
However, if you're like most business owners and CEOs you will want your enterprise to grow. You should consider spending at least 10% of the amount you want to grow by. For example, if your business has a revenue of $10 million, you should be spending at least $400-$500 thousand to maintain your current market position. If you're wanting to grow your revenue by say $2 million, you should also be spending 10% of your goal growth on top of that, putting your marketing budget at $600-$700 thousand.
Keep in mind that 10% is not applicable to each and every organisation. Large companies will have bigger budgets for marketing, while small companies will spend a more modest amount. To illustrate, Microsoft earned almost $90 billion in revenue in 2017 and their marketing expenditure for that year was $15.54 billion. That's approximately 17% of their total revenue.
Once you've determined a marketing budget suitable for your business goals, you need to figure out where it should go.
Why should I spend my budget on inbound marketing?
Today's marketing landscape has gone digital, so companies usually set aside a huge chunk of their marketing budgets on inbound marketing because they know that it's a sound investment.
If you haven't thought about inbound marketing, here are some reasons why you need to integrate it into your overall marketing strategy.
1. It's cost-effective
Put simply, inbound marketing is more affordable than other forms of marketing such as outbound marketing. Marketing company HubSpot reported that leads generated through inbound marketing cost 61% less than leads generated through outbound. Furthermore, inbound marketing channels such as content creation costs 62% less than standard marketing and provides three times the leads.
If you focused your company's efforts into inbound marketing, you could potentially save $14 or more for every new customer you obtained. Basically, you get way more leads at a much lower cost.
2. It brings in a significant return of investment (ROI)
Inbound marketing can provide you with higher ROI then other forms of marketing, and we've got some real world statistics to prove it. According to B2B marketing operating system Kapost, businesses that used inbound marketing platforms saw a 45% increase in their number of sales accepted leads.
Furthermore, a survey conducted by marketing company CMO by Adobe, revealed that 82% of marketers worldwide saw an increase in their ROI for their inbound marketing strategies.
3. It focuses on the most important aspect of your business: your customers.
Inbound marketing is customer-centric. It allows you to establish relationships with your leads and develop those relationships so that leads turn into sales qualified leads and then into paying customers.
Unlike traditional marketing platforms like TV commercials, print ads, and billboards, content-heavy inbound marketing channels don't exist for the purpose of simply making a sale. Websites, blogs and social media posts encourage engagement with your customers and actually make them feel that you care for them
If you're convinced and ready to take that step forward and make inbound a fundamental part of your business, then...

Don't wait till Friday.

Get in touch with us today and learn how our inbound marketing and content marketing expertise can help your business.