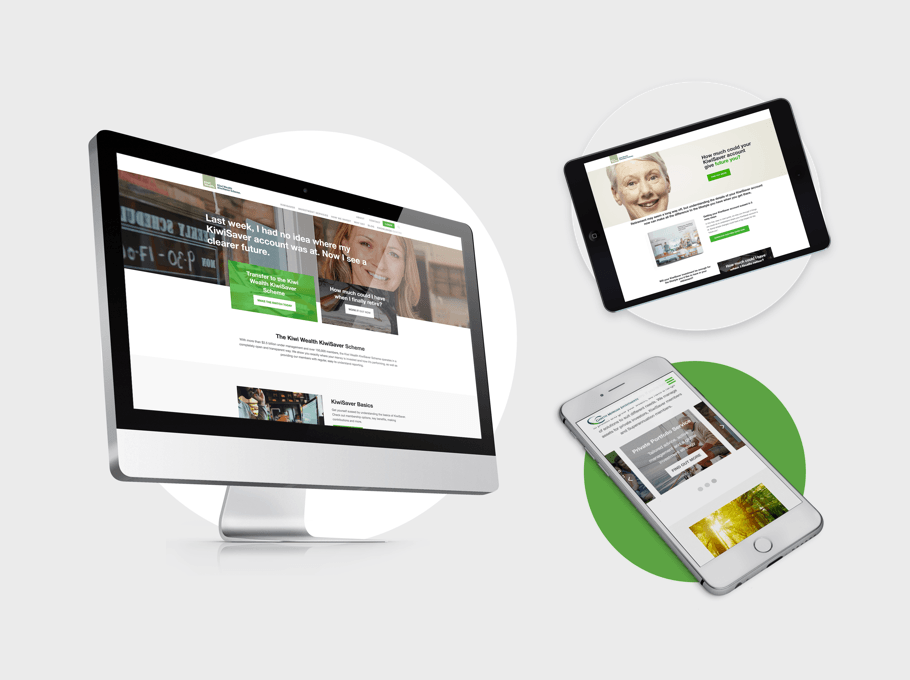 When Kiwi Wealth (formerly GMI) approached Engaging Partners to help implement a content marketing strategy for its private wealth division, it was the beginning of a new era of marketing for the business. The initial inbound campaign delivered more leads than the business could handle, which lead to a journey of inbound education and success, with HubSpot now adopted as the marketing back-bone of the organisation.
Kiwi Wealth is a 100% New Zealand owned and operated investment management business that helps New Zealanders save and invest through a KiwiSaver scheme, Superannuation scheme and a Private Portfolio service. Its KiwiSaver scheme operates under the brand Kiwi Wealth, a brand which is also promoted by Kiwibank.
"We needed a better way to get its message to the right audience and produce quality leads for the business, as well as turn their annual above-the-line 'one-hit-wonder' KiwiSaver campaign into an ongoing success story."

The challenge.
Kiwi Wealth (then known as GMI) was using a traditional, outbound strategy to market its Private Portfolio service. The business was struggling to generate good quality leads from its website and wasn't effectively leveraging its database of existing clients. Additionally, the KiwiSaver offering wasn't fully leveraging the relationship with Kiwibank to acquire new customers via their online on-boarding process.
While Kiwi Wealth had planned an annual above-the-line campaign with Kiwibank for KiwiSaver, there was no strategy for nurturing people who engaged with the campaign, so the promotion rested on the hope of being a 'one-hit-wonder'. The company needed a better way to get its message to the right audiences and produce quality leads for the business, and wanted a better strategy to replace the 'one-hit-wonder' KiwiSaver campaign. The result revolutionised the future of marketing at Kiwi Wealth.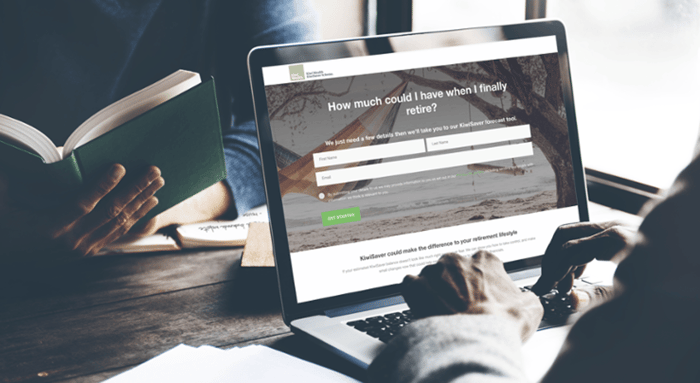 The solution.
In September 2015, the client approached content marketing agency Engaging Partners, and together the client and agency team developed an Inbound Marketing Strategy for the Private Portfolio service as an initial trial. Engaging Partners was able to accurately define three key, high net-worth buyer personas and developed a content marketing strategy around how to reach these audiences.
The first content marketing sprint targeted the persona that would be the easiest to reach and most likely to convert: those closest to retirement with a high probability of having money to invest. A top-of-the-funnel eBook, 'How to get the retirement lifestyle you really want,' was written to educate the target persona about ways to build and optimise their wealth in the years leading up to retirement. And Engaging Partners was able to effectively nurture all incoming leads by establishing certain investment criteria.


"Due to the phenomenal success of the first sprint, we invited Engaging Partners to develop an Inbound Marketing Strategy as the business' primary communication approach."




Leads who met certain investment criteria were placed in a nurture program that encouraged them on the journey towards becoming an MQL. Those who did not meet the criteria were placed in a nurture 'holding' program. The sprint was promoted for 3 months through blog posts, multiple social media channels and, towards the end of the sprint, a branded content (native advertising) trial. This campaign was text-book, Inbound methodology in action.

The results.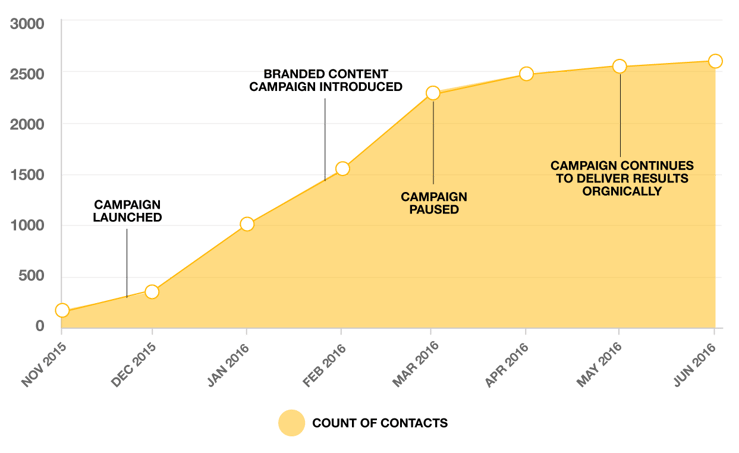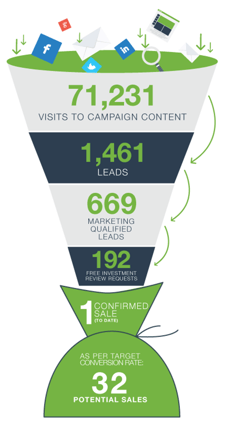 The results were spectacular. Campaign content received 71,231 views, generated 1,461 leads and 669 marketing qualified leads which converted into 192 SQLs and 30 confirmed new members, with an average customer value of $507,603 (to date) - that's over $15,000,000 in new investments for the business.
Prior to the campaign starting the business was generating 30-40 leads per month; this campaign drove a massive 3,874% increase in leads for the business. In fact, it performed so well, that after the inital 3 month campaign period, all promotional activity was paused due to the influx of leads. Today the content remains in-market where it continues to organically produce leads for the business. The client was so impressed with the success of the first campaign that they adopted Inbound Marketing as 'the way of the future' for the business and they now drive all their marketing and sales activity out of HubSpot.


"The campaign performed so well in fact, that after 6 weeks all promotional activity was paused due to the influx of leads."



The success continues.
Due to the phenomenal success of the Private Portfolio campaign, the client asked Engaging Partners to develop an Inbound Strategy for the larger Kiwi Wealth KiwiSaver Scheme retirement investment fund offering. Similar to the first campaign for the Private Wealth division, Engaging Partners identified 3 key personas, but this time leveraged above-the-line promotion provided by KiwiBank, which filled the funnel with KiwiSaver leads.



"The Kiwi Wealth toolkit, combined with a carefully considered content plan and intelligent lead nurturing program, produced impressive results: 222,326 visits to campaign content which resulted in 7,554 MQLs."



The ATL campaign efforts served as a promotional launch. Visitors were driven to campaign landing page where they could access a range of content that educated them about KiwiSaver. The content included a 'top of the funnel' eBook, "Getting your KiwiSaver sussed in 5 easy steps", and a series of 'middle of the funnel' interactive tools (the "Kiwi Wealth toolkit") which encouraged leads down the funnel – including a retirement forecasting tool that contrasted and compared different fund types to show people how much they could have in their KiwiSaver account at retirement. The eBook and tools were in turn supported by relevant, 'bottom of the funnel' joining offers.
This carefully considered content plan combined with an intelligent lead nurturing program produced impressive results: 222,326 visits to the campaign's content which resulted in 7,554 MQLs that had a 6.6% conversion rate to joining. The campaign's target lead goal was 550, compared to actual leads of 6,897 (at only 4 weeks in!) — that's 1,154% over target.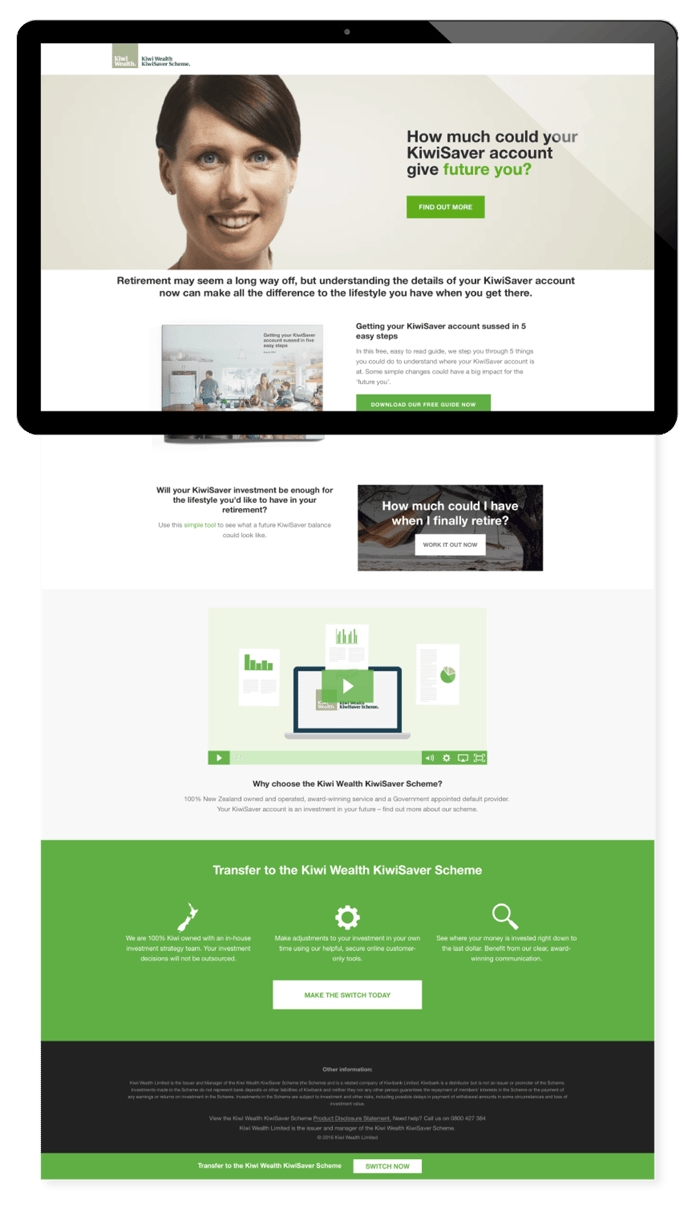 This ongoing campaign will continue to attract new visitors, nurture existing leads and convert them through both existing and upcoming content campaigns. By working with Engaging Partners and HubSpot, Kiwi Wealth was able to shift from a traditional marketing approach to an always on Inbound Marketing approach and the KiwiWealth KiwiSaver campaign is on track to exceed the original KPI goals by over 5x with a total budget increase that only doubled from the previous year.
How did we do it?
While the first Private Portfolio service campaign was an excellent example of the flawless execution of a classic Inbound Marketing strategy, the Kiwi Wealth KiwiSaver campaign was far more complex and innovative.
In the Kiwi Wealth KiwiSaver campaign, our goals were to intelligently encourage leads to progressively engage with the educational tools, personalise the experience, score their behaviour and present relevant joining offers at the right time in the buyer's journey. The retirement forecasting tool, one of the five tools on offer, was the most critical - engaging with this tool indicated that leads were moving down the funnel closer towards joining - therefore carrying a higher weighting in our lead scoring workflow.


However, we had a major challenge to overcome. As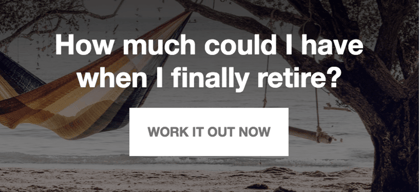 well as running the campaign through typical Inbound channels, we also had to develop the lead nurturing programme to cater for a Kiwibank customer 'in-branch' (store) experience. To ensure we could intelligently nurture all leads, we had to recognise which channel the leads had entered through, what tool they had last engaged with, and serve up the next most relevant tool based on their previous session (whether that had been online or via a non-personal in-branch device).


This called for some innovative thinking. Armed with a bit of Kiwi ingenuity, some technical smarts and a committed client partner, we not only overcame significant in-branch challenges that cookies and rigid security constraints presented, but critically, we were also able to recognise (and acknowledge) leads on their return to the toolkit from a personal device/new session and serve up the next most relevant tool CTA, encouraging leads further along the funnel towards conversion to MQL.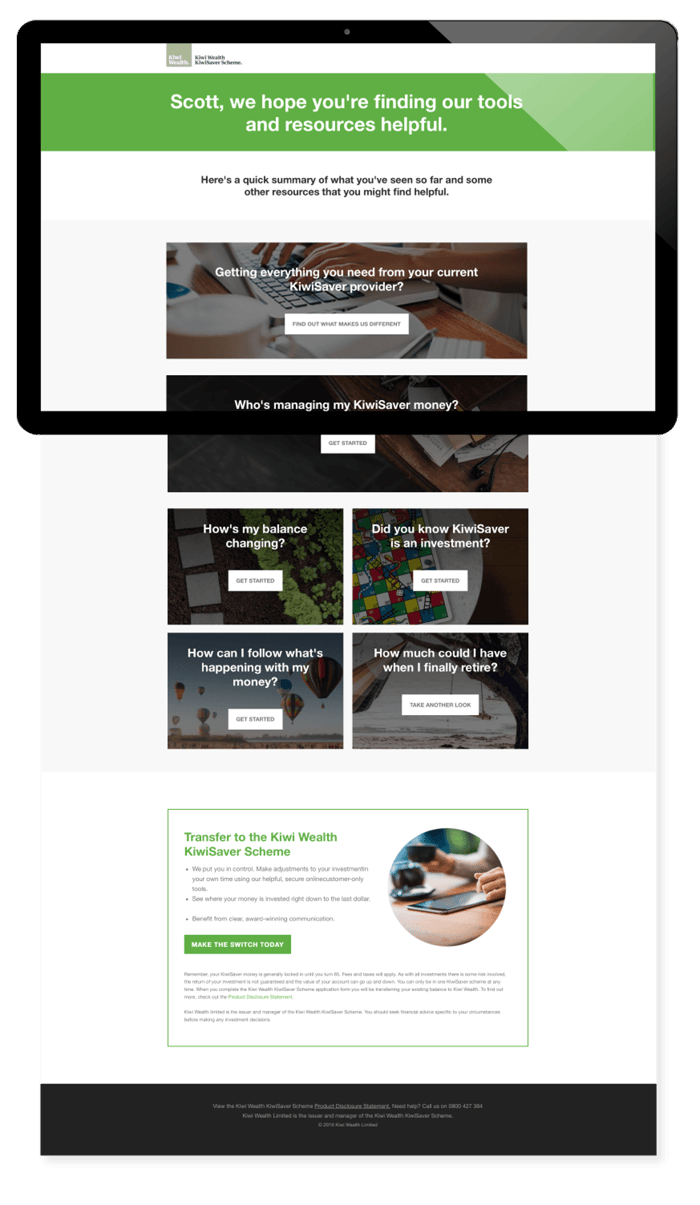 This sophisticated nurture programme was achieved via a combination of:
Carefully configured out-of-the-box smart lists which drove smart CTAs for each tool

Lead scoring to prioritise content offers

A small amount of custom code to overcome the in-branch technical challenges

Well thought-out nurture plans for every possible lead journey - a truly omnichannel campaign!