FRAMECAD has been selling innovative construction solutions to the world for 30 years. But with a tough and increasingly diverse global market, they turned to Inbound Marketing and local agency, Engaging Partners to find a way to increase leads and better support their distributed sales force. Find out how this multi-award winning work has not only delivered leads that far exceed expectations, but has also changed the way the business approaches marketing for good.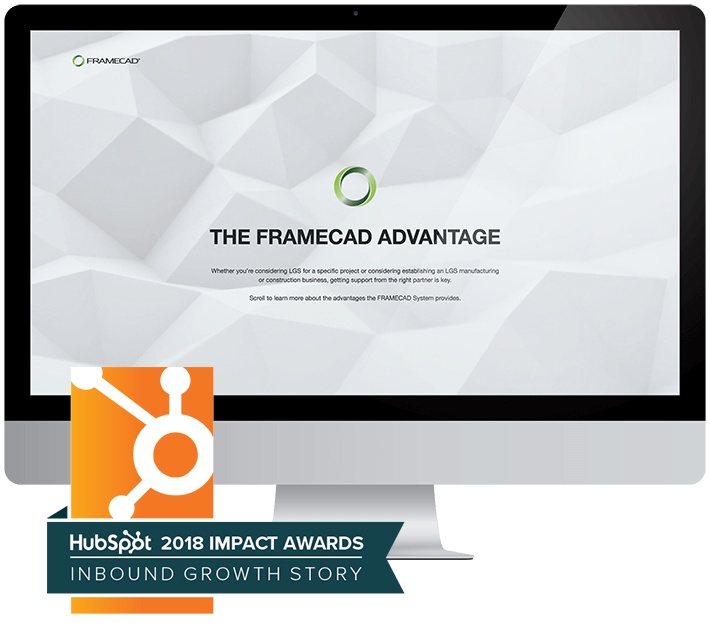 FRAMECAD is a pioneering New Zealand manufacturing company that has been taking on the world with innovative construction technology solutions for 30 years. Their product is a building system that takes Cold Formed Steel (CFS) and turns it into framing for robust, efficient buildings - a building system that is faster and more cost-effective than traditional building methods. Combining manufacturing innovation, with world-class design software and engineering excellence, the FRAMECAD System has revolutionised how governments, communities, and developers approach construction. The company delivers solutions around the globe and has a physical presence in 116 countries.
Challenges
Although a hugely successful company, FRAMECAD had relied solely on traditional sales methods to engage their diverse range of target customers - from third world governments, to multi-billion dollar private developers and everything in between. With long prospect-to-customer sales cycles that were open to competitor deal poaching, FRAMECAD realised they had to do more than rely on the skills of a highly distributed sales force to close deals.
FRAMECAD and Engaging Partners had previously embarked on a digital lead conversion programme with a sophisticated website and CRM integration project in early 2014. But the team realised there was something missing. While we were influencing warm leads with rich digital website content, we were missing out on a huge piece of the pie. We weren't attracting enough new leads.


There were two fundamental challenges ahead:
How do we go about convincing a traditional engineering sales organisation that digital channels - in particular, social media - will become a key lead generator for the business? And...

How do we supplement the existing, highly customised CRM with an off the shelf marketing automation platform (HubSpot)?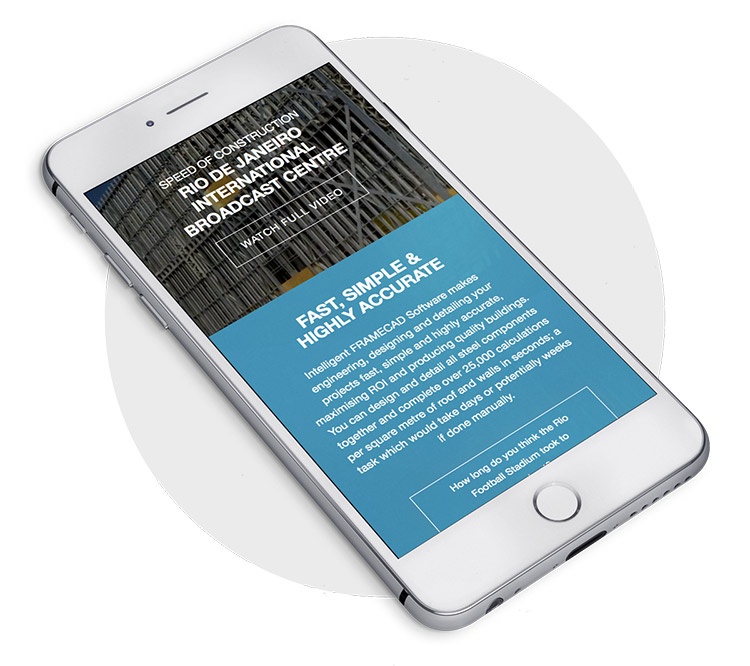 The Solution
With Engaging Partners at the helm of a new Inbound Marketing Strategy, the team embarked on a new 'always-on' lead generation strategy that would transform how the company attracted new leads and converted them to sales qualified leads, complementing the existing sales
ecosystem. And this strategy, combined with the power of new HubSpot marketing automation technology, enabled FRAMECAD to take their marketing programme to the next level.
The foundation of the strategy was identifying ideal personas. The team quickly realised that - regardless of geographic location, economic status or type of construction project - their target audience could be grouped into four key personas based on shared pain points, goals and triggers. This then meant a manageable calendar of content (that could otherwise have been unwieldy) was able to be created to meet the information needs of each persona, at each stage in their buyer's journey.
Content developed to date includes:
3 educational EBOOKs targeting specific personas to help them understand the CFS construction method and how the FRAMECAD system works (working across different content sprints at different stages in the funnel)

An interactive TOOL to educate all personas on the 'FRAMECAD Advantage' and in doing so, present case studies, test their knowledge and gain more insight into the personas engaging with the tool

An awareness stage VIDEO that educates key personas on the CFS design process

EDMs to promote premium content to existing prospects and customers

A range of 'always on' blog articles and social posts published to organically promote all content across Facebook, LinkedIn, Twitter and Google+
Underpinning the strategy is a sophisticated email nurture programme that intelligently nurtures leads through to sales-ready qualification. Using 'smart rules' based on known data about each lead, the nurture programme offers leads new content relevant to the content they previously have or have not engaged with, to build trust, and gently encourage them closer to the point they are ready for sales follow up.
And, to complete the loop, a custom Bedrock API integration was developed to sync HubSpot contacts and key data queries with the company's Microsoft Dynamix CRM.
For the first time, FRAMECAD was now able to attract and build trust with new leads through the entire sales process.
Goals and measurable objectives
Goals of the strategy were to:
Attract more website visitors

Convert visitors into prospects

Nurture prospects through to leads

Generate more and better quality qualified sales leads

Take a thought leadership position and create trust

Shift toward a responsive, data-driven marketing approach

Improve the return on marketing investment.
To achieve these goals, specific measurable objectives were identified for the first year of the programme:
3000 new visitors/mth to programme content (blog + content landing pages)

30 leads/month (premium content registration); which in turn generates:

3 marketing qualified leads/month.
The Results*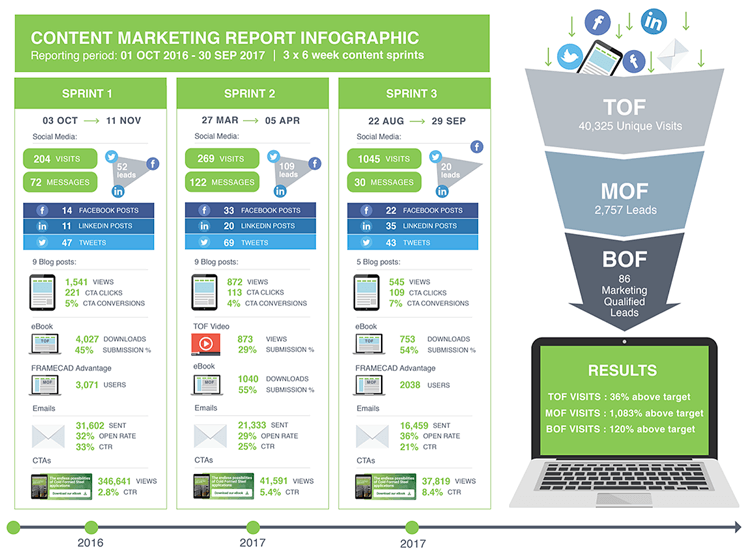 With content distributed using primarily earned media, the results of the programme have far exceeded expectations, and anything seen before for lead generation in the B2B construction industry:
Leads 1,314% above target

MQLs 120% above target

Expected ROI for the results period at $69.33 /dollar invested.
Targets and results are set and measured around FRAMECAD's financial year. When viewed across the period (1st October 2016 - 30 September 2017) they breakdown as follows:
Blog and Landing Page Traffic:
Target: 29,575 unique visits
Result: 40,325 unique visits - 36% above target




Leads: (captured website leads – excluding Paid Media)
Target: 195
Result: 2,308 - 1,083% above target
Cost per Lead = $59.06


Marketing Qualified Leads: (website leads passed on to sales for follow up – excluding Paid Media)
Target: 39
Result: 86 - 120% above target
Cost per Marketing Qualified lead = $1,585.12
Note: the criteria for 'marketing qualified' was tighten during the results period so Sales only manage leads with the highest potential to convert. All other leads continue to be nurtured as part of the lead generation programme towards become 'marketing qualified'.
FRAMECADs qualified lead to closed sales ratio is 1:4 and the average new customer life-time value (LTV) is $456,566.




Sales Targets (to 31 Sept 2017):
New customers: 10

Revenue: circa NZ$5m

ROI: NZ $33.49

The lengthy purchase process in the industry means full results for this period will not be available for another 12 months. However to 31 September 2017: 6 new customers with total sales to date of $1,966,417

Forecast based on sales to date and qualified leads still in the purchase process:21 new customers with total LTV sales of circa NZ$10m - 110% over target

Forecast ROI is on track for a NZ$69.33 return for every dollar invested – 107% over target.
Success on even more levels
FRAMECAD had been successfully running a very traditional sales approach, so it was a huge shift to add personalised lead generation into the sales ecosystem - let alone then telling them we'd be doing this using content distributed mostly via earned media, particularly social media.
Key challenges we faced:
Generating enough of the right content required a significant pivot in marketing focus and commitment to creating content that at times, fell outside of the client's comfort zone

To complement the existing sales ecosystem, custom integration between the lead generation platform and the existing CRM system was required

This programme required a change in focus, reprioritisation of resources, buy-in from the sales and IT teams, and a journey of discovery when it came to the production of challenging premium content.
The challenges were overcome and outstanding results achieved through the establishment of a clear vision, agreed objectives and a solid methodology for execution.
Matthew Woodley, Sales and Marketing Manager, FRAMECAD

"We have a longstanding and trusted partnership with DBF. When DBF presented the concept of the new Inbound Methodology and HubSpot platform, we quickly realised the value of the strategy to our business, which requires highly specialised B2B content. The results we are getting are delivering a return on investment, even in the early days of our programme. We look forward to continuing to rolling it out and seeing how the results build."
This work also recently caught the attention of industry peers in the 2017 NZ Direct Marketing Awards, receiving a Bronze in the highly competitive B2B category, and a Bronze in the prestigious Nexus Awards for channel utilisation. The Nexus Awards recognise excellence in creating the foundations on which measurable campaigns are based: strategic vision, innovation, customer and market insight, response-driven marketing tools and techniques, plus products or services that make the use of interactive one-to-one communication quicker, easier, or more insightful.
Engaging Partners is New Zealand's leading inbound marketing agency and a Platinum Certified HubSpot partner.
*Note: results mentioned in this blog were recorded between the dates of January 2017 - 31 September 2017 for award entry purposes. The programme continues to run today generating a steady stream of high quality leads and sales conversions for the business.