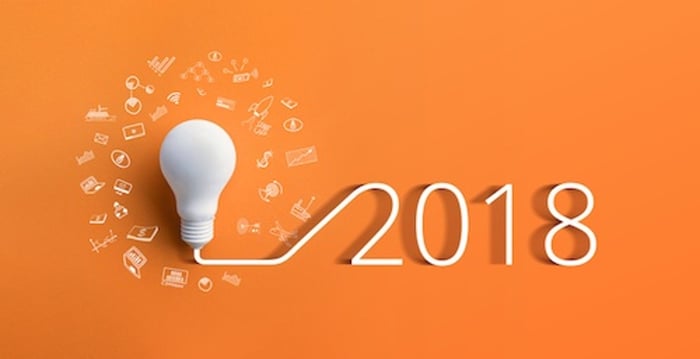 By now you're sure to have noticed just how important content marketing is when it comes to attracting inbound leads and building strong customer relationships. And one of the keys to the success of content marketing is that it's dynamic. Instead of just doing the same thing and expecting results, it evolves and keeps things fresh, in line with our ever changing digital world.
This is great, but... to make the most of content marketing you and your business needs to know what these developments are and keep up with trending content types.
This is where we can help - here we give you our predictions for the top content marketing trends in 2018 so you can make the most of these exciting content marketing times.
Predicted trends for 2018
Live video
While live video hasn't gained mass adoption yet, data trends point towards this having a bigger role as the year progresses. Video is miles ahead of any other image-based content in terms of engagement. 52% of marketers recommend it as the content type with the highest ROI.

It's the perfect chance for customers to interact with you, ask questions, and give feedback. Facebook live video in particular makes it easy to talk one-to-one with your audience and record the session for those who couldn't attend.
Interactive visual content
It may still seem futuristic, but marketers have been putting a lot of thought into making virtual reality part of their content offerings.
VR can influence buyer behaviour by tapping into sensory parts of the brain that are receptive to emotion and reactions. This fast-tracks the 'Aha' moment for your customers. They can get first hand experience being at your conference, walking through your store, or test driving that new car.

As technology improves, adoption will increase and the costs will decrease. VR will become a valuable tool for providing your customers with an immersive brand experience.
Leverage automation
Planning, creating and promoting content takes up valuable time. Automation tools are becoming more prevalent and powerful, and this area is predicted to see a lot of growth in the coming months.

Although marketing automation is in a relatively early stage, in the future it can conceivably cover any task imaginable. Instead of feeling overwhelmed at a later date when this trend escalates, start looking now at ways to automate some of your basic processes. Lead generation, social media marketing, and email funnels are all great places to begin.
Artificial intelligence
Using AI to assist with your content is not about replacing your marketers and writers. Computers working together with humans are a recipe for content production that is both fast and optimized for success.

Machine learning can help you acquire compounding amounts of data to pinpoint the exact needs of your customers. Over time, this will streamline your content creation, management and delivery.

Once your AI is performing at peak, it can assist in creating high volumes of perfectly targeted content. Delivered to the right audience at the right time, this content will help organically increase your conversion rate.

So now you know what we predict will be the direction that content marketing takes this year. It's an exciting time and from everything that we're seeing the content marketing world is only getting better and becoming a more valuable tool. The key to keeping up and making content marketing work for you is to be flexible - be ready to make the most of the trend and what is working and on the flipside, what isn't. After all, trends can last for a long time, or can disappear overnight.

What we suggest? Use a blend of your own data combined with these new trends to strengthen your content strategy over the coming year.