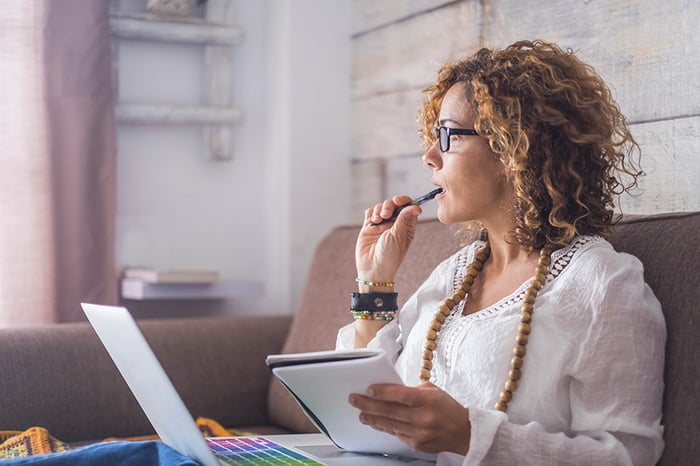 eBooks are one of the most under-rated, yet highest performing content formats available to marketers. They are cost-effective to produce, can be quick to create, and are a low-friction way to engage your personas with visual content that solves their problems. In this blog, we share some tips on how to produce best-in-class eBooks.
What can you expect from investing in the creation and distribution of an eBook? eBooks are useful for creating not just leads - but robust leads. By presenting your brand as a thought-leader you build brand credibility that can lead to stronger business relationships.
However, there is an art and science to getting eBook content right. Creating a compelling eBook takes a bit more effort and crafting than you may think, but it's worth taking the time to get it perfect. Here are four key ways to ensuring your next eBook will resonate with your personas and generate leads for your business.
Pain in the, but
You will hear us here at Engaging Partners urging you to address your persona pain points again and again. If you're putting the effort into making an eBook, don't assume you know your customer pain points, do your research and look for their biggest issues. These should be the issues at the heart of their business, the big ones, the true walls that are holding business back from success. For example, if your persona's main issue is lead attrition, an eBook about generating leads isn't going to be as useful as an eBook that helps them nurture and retain leads. It's useful to check customer feedback data or industry surveys to help find the key issues.
Call me maybe
What is content marketing without a rock solid Call To Action? Outlining and providing a solution to a pain point involves informing them of the next step they need to make. You're trying to avoid your leads from reading and forgetting before they're compelled to take action. What do you need them to do? Download an offer? Watch a video? Book an appointment? Make the CTA specific. If you're informing your leads of an amazing new tool that will help clean their databases and the next step in the process is booking a face-to-face meeting, then the CTA should lead them in that direction.
The first bite is with the eye
You're not supposed to judge a book by the cover, but, of course, we all do. It's a question of professionalism. After you've developed effective content with a clear CTA, you need to execute it. Like your website or any other customer facing material, you want to ensure it looks professional. Get the fundamentals right, such as spelling and grammar mistakes. Your work reflects your business, so, as well as those little details ensure it is well-designed and attractive to the eye. Review your eBook once a year to ensure it's fresh and relevant. Also be sure all your links and CTAs work. That would be like a telco paying big money advertising a new product only for the customer to have to wait two hours on the phone with the contact centre. Sayonara leads.
For more information and tips download our eBook: How to double your lead generation in 30 days
Put it out there
Your sleek, sexy new eBook is a resource you've invested in, so promote it proudly and prominently on your website, through your social media channels and use it as a resource at every opportunity, such as during one-on-one interactions. Refer to it both in blog posts and in wider communications.
Reviewing and regularly updating your eBook will also give you another opportunity to promote it to your email database. For example, "Please find attached our updated eBook, How to Reduce Waste. In this update, we've added a handy new checklist." This will show your leads that you're an active business that is still addressing their pain points.
In a nutshell
So, ensure you keep your eBooks professional and that they address your persona's pain points with a clear call to action. Although eBooks can be a lot of effort, they're an effective addition to any content marketing strategy and by following the basics you can generate more quality leads, and expect a great ROI.
Here are some more helpful links:
Content Marketing vs Inbound Marketing - what's the difference?