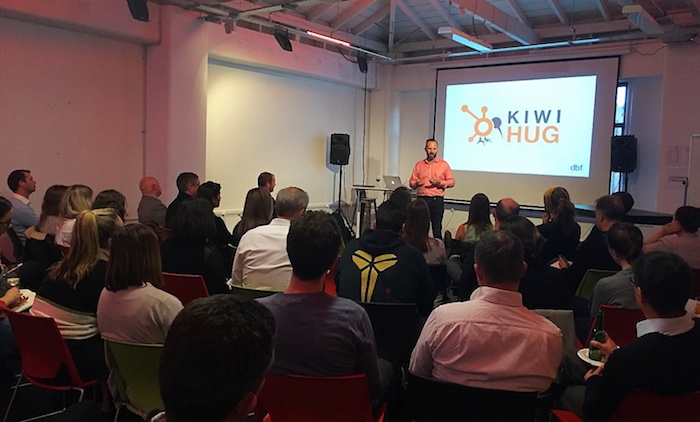 Over the last few weeks the Done by Friday team, with some help from our friends at Concentrate and HubSpot, have hosted HubSpot User Group (HUG) events in Auckland and our very first Wellywood event - all in an effort to bring together New Zealand's growing network of inbound marketers.
Both events covered topics designed to help marketers maximise budget and look to convert more leads through inbound marketing. And while the cold pizza (at both events) was a bit of an acquired taste; at least there was beer, wine and good conversation.
Here's a quick breakdown of our Top 5 takeaways from both events - because everything that comes in 3 or 5 tips/takeaways/hot tips/no-nos etc. - must be worth reading.

WLG & AKL Top 5 Takeaways

#1. Think big, start small and . . . just don't give a SH@!
Alan Sharpe, GMI's entertaining Senior Engagement Manager was first to dress down some of the issues with adopting inbound marketing strategies and tools in an environment that excels at above the line marketing. Where tradition meets innovation - Alan shared how he and his team used content, email nurture and sponsored brand content to almost triple their lead conversion rate.
Alan's best piece of advice for the marketer getting heat for their inbound investment: "Don't give a SH@! about what the other departments have to say about your ideals - the reporting doesn't lie"

#2. We will really try not to host another HUG in the middle of a construction zone (or have the pizza arrive too early)
To all the Aucklanders' who had to navigate the never-ending construction surround 3 of the 4 streets the Grid borders on, we thank you for attending our event and apologise for how difficult it must have been to come and join us. We've decided that while Pakenham Street West (not North) is under construction, we will be on the lookout for a new space - if you have any suggestions please feel free to pop them in the comment box.
And in terms of the cold pizza … we're sorry and we're working on it.

#3 Email nurture - a constant WIP
All of our speakers touched on the importance of emails when it comes to converting more leads with inbound. A well thought out email nurture strategy and a sprinking of smart technology can lead to a 20% increase in sales opportunities (when compared to non-nurtured leads).
Regardless of if you're running your programme out of HubSpot, or kicking it old school with MailChimp - you need to make sure you're always testing and comparing how well your email's content, design and strategy is performing over time - so you can make sure your communicating the right information to the right auidence/s.
#4. Investing in interactive content is more than just a fad - it's essential
Our second speaker and founding Director of Done By Friday, Boyd Wason, emphasised how the evolution of digital technology has changed how people consume content. Interactive content may not necessarily be a new concept, but using tools, programmes and workflows that personalise the user's content journey can increase the quality of your MQL (marketing qualified lead) conversions.
Boyd's expert advice for marketers taking on interactive content: "Think long term - interactive content relies on lead input and continued optimisation of your lead nurture programme"
#5. The power of BOFU - MOFU's cousin
Founder of Christchurch's tech savvy agency Concentrate's Greg Williamson, reminded us all about how important it is to make sure your leads are ready to engage with your bottom of the funnel offer. If your sales team is hitting more dead ends then they are closing deals - then it might be time to re-evaluate the effectiveness of your existing nurture strategy and whether or not your MOFU and BOFU offers flow together.
Greg's key piece of advice for marketers struggling with converting leads into sales: "Make sure your BOFU offer is clear and specific to the information needs of your target persona"
Missed out on attending our event or are keen to come along to our next meetup? Subscribe to our blog below or pop over to LinkedIn and join our Kiwi HubSpot User Group to stay up to date.