By Boyd Wason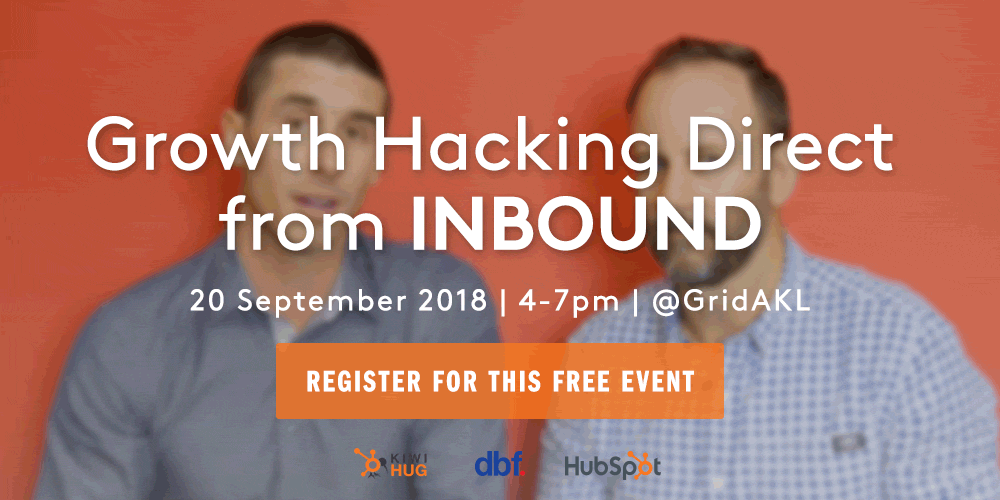 It's only been a couple months since our last #KiwiHug, but already so much has happened in the industry. We understand it can be hard to keep up with all the latest and greatest, so that's why our team is going all the way to Boston to absorb everything coming out this INBOUND2018 for you. After we jet back, we'll get ready to share the rundown with you at our September Hug.
#KiwiHug details:
Time: 4-7pm
Date: 20th September 2018
Location: Grid AKL
Speakers: Casey McGaw, Mark Laurence and Sonia Slattery
Topic: Growth hacking, direct from Inbound
What's INBOUND, you ask?
INBOUND is HubSpot's annual four-day event designed to bring together the community of people (over 20k marketers) who love marketing, selling and delighting customers.
But this event isn't about improving the bottom line - it's all about embracing the empathy and humanity that's at the core of doing business. That humanistic approach of doing business attracts some amazing industry and thought leaders from around the world.
Last year, the event welcomed Former First Lady of The United States, Michelle Obama and actor and WWE Superstar, John Cena. Of course, Brian Halligan and Dharmesh Shah, the co-founders of HubSpot, are always on hand to discuss all the exciting industry updates.
This year, the event will be no different as it welcomes the likes of the Best-Selling author, Deepak Chopra and Award Winning Writer/Executive Producer Shondra Rhimes. Grey's Anatomy and Scandal just so happen to be two of Mark's favourite shows, so he's going to try to get a selfie with Shondra.
So, what are we bringing back?
INBOUND is always loaded with new industry updates to focus on, and this year will be no different. Casey and Mark will be delving into the latest in marketing automation and inbound marketing from the conference, specifically around growth hacking. Haven't heard of growth hacking and not sure how it relates to your business?
Sounds like you need to attend our #KiwiHug on September 20, from 4 to 7 pm.
For more on growth hacking and to learn if Mark met Shondra or not, save yourself a spot today.
Here's the link to our Eventbrite invite - this is one #KiwiHug you won't want to miss.