We prepped and practiced... in a perfect world, our live webinar would have gone off without a hitch. Unfortunately, we weren't so lucky. In this blog, we share what happened and what we learned, when, despite all the preparation, the technology not only let us down, but also our precious participants. So here's what we learned.
When we were preparing for our first live webinar, we were under no illusions that it was going to be a walk in the park. So we tested the technology days in advance, ran rehearsals with 'dummy' attendees dialling in... in fact, we sat there 'the morning of' thinking... this is sweet. Oh how wrong we were.
Despite having participated in many live webinars ourselves and having produced a few 'on-demand' pre-recorded webinars, we'd never actually run our own live webinar. But we know the format has become increasingly popular so it was time to give it a try.
We wanted to gauge the level of interest in the live webinar format...
Would people register? (yes, in their droves with over 130 sign-ups)
Would they show up on the day? (yes, with over 50% turn out)
Would they interact during the presentation? (yes - especially when things started to go pear-shaped!).
We decided on a topic we know resonates with many of our clients: customer experience and technology. (Oh how we wish we'd chosen a different topic!)

See our latest infographic here: The best content to use for each social channel in 2021


The day of the webinar arrived, and (we thought) we were ready. 45 mins before the webinar was scheduled to begin, we set up the webinar waiting room, and invited our two presenters on to the call. But our guest presenter dialling in from Sydney could not get on the call. No matter what buttons we pressed, how many times we shut down and restarted, the technology was just not co-operating.
Our attendees were logging in - in droves - patiently waiting for the webinar to begin. The clock struck three. Ready, set, go!
"There's no sound."
"I can't hear anything."
"There's no audio."
"Hello?"
The worst had happened. A live webinar about the importance of customer experience and we were delivering a less than desirable customer experience. Our guest presenter still couldn't connect into webinar room so we improvised with a speakerphone. Just when we thought that was the worst of our problems, the streaming experience started glitching for our attendees. The horror.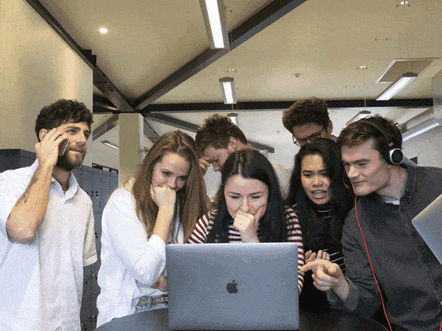 (this is what our team looked like)
The webinar 'hobbled along' to the end but we were absolutely gutted. After the initial shock wore off, we knew we had to find some learnings from this experience.
We now know we're not alone with webinar technology going-rogue - so what would we do differently to avoid those problems next time? Allow us to share with you...

1. We'd choose our webinar platform much more carefully


We considered using the industry-leading technology (GoToMeeting) but because they were very pricey and we were trialling this format, we went with a different platform and… you know the rest.
Our lesson: don't skimp on the platform - particularly if you're new to this. Also, check reviews from other users of the platform and be sure to load test the platform with as many attendees as you can prior to the real event.
Tip: run a fun internal webinar for your company on the new platform to iron out any glitches ahead of inviting potential customers to your real webinar.



2. We wouldn't run it on Wifi

An Ethernet cable is a must! The WiFi was working just fine during our two run-throughs. However, we suspect that once we had 60-plus viewers streaming on the platform, either the system or connection couldn't handle the load.
Our lesson: A good marketer doesn't blame their tools - so next time, we'll whip out the trusty Ethernet cable.

3. We'd co-ordinate all presenters even earlier

Because our guest presenter was joining us from Australia, we had both presenters join 45 minutes before the webinar just in case we had issues. But this still wasn't enough time to troubleshoot - 45 minutes feels like 45 seconds when you're under pressure!
Our lesson: If you have presenters in multiple locations, have at least 3 run-throughs on the platform ahead of the live webinar so they practise the process of joining the platform, testing microphones and cameras etc. If you have any issues what-so-ever contact your provider.
Tip: Bring presenters onto the call well in advance to ensure the platform is working for everyone.
4. We'd moderate straight away

We were quick to jump in and explain the situation, but not before people were wondering what was going on.
Tip: If it all starts to go wrong, make sure you have someone dedicated to the chat pane letting people know what's happening and why.



5. We'd have a back-up plan ready to go

Technology is meant to make our lives easier, but we all know it can really let you down. So make sure you have a back-up plan ready to switch to. When we couldn't get our guest presenter online, some quick thinking - albeit 8 mins late - meant we were able to get him on speakerphone, which wasn't the best sound quality, but we made it work.
Tip: When it's going really downhill, don't be afraid to make the call to reschedule. It's better to lose a few people and reschedule for another time than persist with a bad experience.

The path to redemption!

Of course, we didn't do everything wrong. We recorded the whole session and fortunately, the audio was much clearer and glitch-free. Within 24 hours we'd optimised the video, found our sense of humour and shared it with all attendees many of whom have since totally empathised with our situation.
I hope you can learn something from our experience. If you do find yourself in the same situation, just remember: you're only human. Technology does let you down at times. It's how you recover from it and 'make good' that counts. Finding a sense of humour about it helped us - and we hope, entertained our participants who we also know, are human too :)
If you've had a less-than-ideal webinar experience and would like to share your learnings too - drop us a line below!